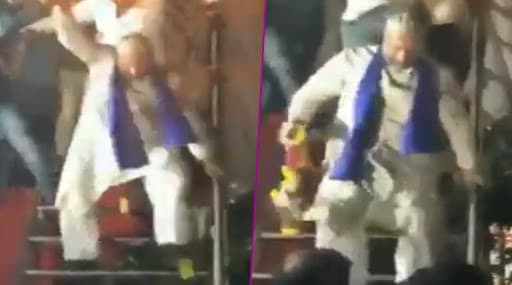 Aurangabad, October 18: With the dates for Assembly Elections in Maharashtra coming near, politicians are making all sorts of efforts to make sure that people vote for them. In a latest attempt to appeal people to vote for All India Majlis-e-Ittehadul Muslimeen, party president Asaduddin Owaisi was seen dancing on the stage on the song of 'Miya Bhai' after addressing the political rally.
According to a video which has gone viral, Owaisi could be seen dancing on the stairs after listening to the song of 'Miya Bhai'. The incident took place in Maharashtra's poll-bound Aurangabad on Thursday night, where Owaisi started dancing after addressing a political rally. The video has gone viral on social media. 'Vote For BJP or Else This 2.5-Kg Hand...': Sunny Deol on Haryana Elections Campaign Trail; Watch Video.
Here's the viral video:
Maharashtra: AIMIM Chief Asaduddin Owaisi performs a dance step after the end of his rally at Paithan Gate in Aurangabad. (17.10.2019) pic.twitter.com/AldOABp2yd

— ANI (@ANI) October 18, 2019
This is not the first time that politicians have taken an entertaining route to attract people to vote for them. Earlier in the day, renowned Bollywood actor and Gurdaspur Lok Sabha parliamentarian Sunny Deol on had appealed to the people of Haryana to remember the date of polls and exercise their democratic right in favour of BJP. He requested the people to vote in his filmy style, by recalling the famous dialogue of 'tareek pe tareek'. The voting for 288 seats in Maharashtra would take place on Monday, and the results would be announced on Thursday, along with Haryana Elections.