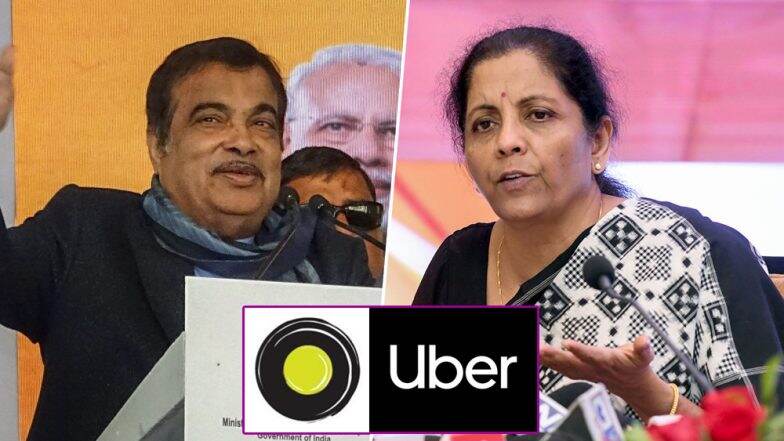 New Delhi, September 11: Union Minister Nitin Gadkari defended his cabinet colleague Nirmala Sitharaman over her remarks that millennials preferring Ola and Uber cabs responsible for the automobile sector slowdown. Nitin Gadkari said that Finance Minister Sitharaman's statement was misinterpreted, adding that there were several factors behind the slowdown. He said that the increasing usage of Ola and Uber cabs was one of the reasons for the downslide in the automobile industry. Nitin Gadkari Admits to Economic Crisis in Automobile Sector, Assures Finance Ministry Will Find Out a Solution Soon.
"There are a lot of reasons for the slowdown, and the Ola and Uber are one of those reasons," the Road Transport and Highways Minister said at the launch of the BS6 compliant Honda Activa 125 scooter on Wednesday. Sitharaman on Tuesday had said the slowdown in the automobile sector was due to change in the mindset of millennials, who now prefer taxi aggregators like Ola and Uber instead of committing for monthly instalments to own a car. Her remark received a lot of flak from political opponents and netizens on social media. Nitin Gadkari Justifies Hefty Fines Under New Motor Vehicle Act.
Explaining what led to a crisis-type situation in the auto sector, Gadkari said that there were a number of other reasons for the auto industry witnessing discouraging volumes month-on-month. He said that an improvement in public transport across the counrty was one of the factors for the slowdown. Drivers are switching to e-rickshaws, which has slowed down the sale of ICE auto-rickshaws, Gadkari said.
"I have discussed with the Finance Minister and the FM will decide in consultation with state governments. The ball is in the court of Finance Ministry as far as GST rate cut decision is concerned," the union minister added. Last week, Gadkari had admitted that the automobile industry is facing a problem.
"There is a fact that as far as the present economic data is concerned automobile sector is facing a problem, because of the global economy, demand and supply. The government is already with the automobile industry and under the Finance Ministry we'll find out a solution," he had said.