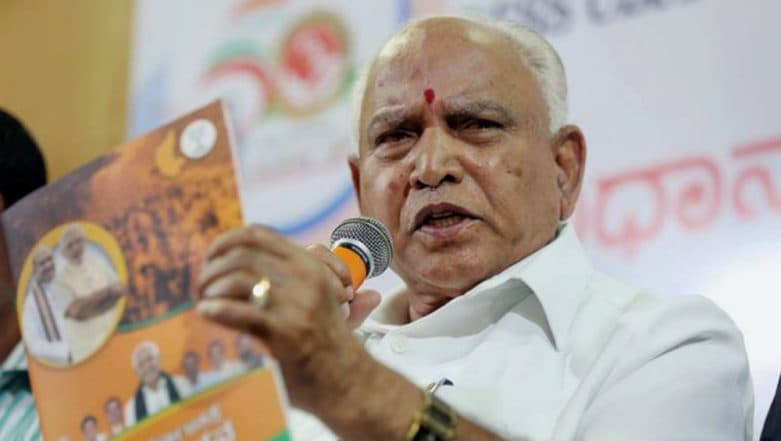 Bengaluru, May 16:  Bharatiya Janata Party (BJP) Karnataka chief ministerial candidate BS Yeddyurappa will be sworn in as the new Chief Minister of Karnataka on Thursday. The oath-taking ceremony will take place at 9 am tomorrow.  According to a recent tweet by ANI, Governor Vajubhai Vala has invited Yeddyurappa to form the government in Karnataka and an official communication regarding the same has been received. The Governor has also given 15 days to BJP to prove majority.
Earlier in the day, Yeddyurappa and 11 lawmakers of the BJP went the Raj Bhawan to meet Governor Vajubhai Vala to stake claim to form a government in Karnataka. "Tomorrow BS Yeddyurappa will be taking oath (as CM of Karnataka) alone, after proving majority cabinet will be sworn in", Murlidhar Rao, BJP was quoted by ANI.
Karnataka Governor's letter inviting BJP's BS Yeddyurappa to form government. #KarnatakaElectionResults2018 pic.twitter.com/EafBULC7nr

— ANI (@ANI) May 16, 2018
On Wednesday evening, the official Twitter handle of BJP Karnataka unit, @BJP4Karnataka had tweeted, "The moment that crores of Kannadigas are awaiting is here. Sri BSYBJP will take oath as Chief Minister of Karnataka tomorrow morning at 9.00 AM at Raj Bhavan. The movement to build our Suvarna Karnataka has started."
BJP spokesperson and Rajajinagar MLA S. Suresh Kumar confirmed the news in his tweet in Kannada. "Let us take part in this momentous ceremony in large numbers," Kumar said in the tweet. However, the tweet later deleted.
Take a look at Suresh Kumar's Tweet:

"The party has chosen me. I have given the letter to the Governor & he will call me, that is what I am hoping. He told me that he will take an appropriate decision. I'll inform you after I receive a letter from Governor",  BS Yeddyurappa said after meeting the Governor today.
Meanwhile, members of the Congress and JD(S) also met the Governor on Wednesday. KPCC President G. Parameshwara said letters with the signatures of 117 MLAs were submitted to the Governor.
Claiming that there was a strong wave in BJP's favour and public ire against Chief Minister Siddaramaiah and the Congress, Yeddyurappa had said he will give it in writing that the saffron party would win the Karnataka Assembly elections with an absolute majority. The state returned as hung Assembly on May 15 with the BJP scoring 104 seats, Congress 78 and the JD(S) 37. The Congress on Tuesday offered support to the JD(S), which was duly accepted by Kumaraswamy.
Earlier this week, Yeddyurappa had claimed that the party will get more than 150 seats and they will form the government in the state. "It is an auspicious day, everyone should come out and vote. We (BJP) will get more than 150 seats and I'm gonna make the government on 17th May," he said.