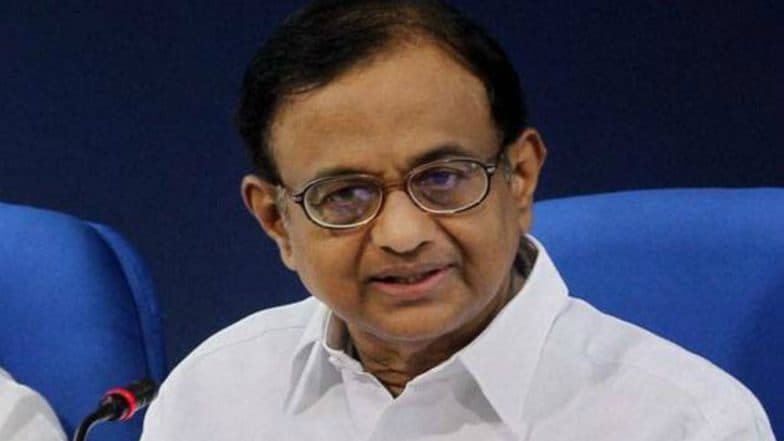 New Delhi, August 20: A team of officials from the Central Bureau of Investigation (CBI) reached the residence of former Union Minister P Chidambaram hours after he faced a legal setback. The Delhi High Court, earlier on Tuesday, rejected the anticipatory bail plea of Chidambaram who is likely to be arrested for his alleged role in the INX Media Case.
Chidambaram, however, was not found at his Delhi-based residence when the CBI officials arrived. Preliminary reports could not ascertain whether the house was raided or a search operation carried out within the premises. Chidambaram's Anticipatory Bail Plea in INX Media Case Rejected by Delhi High Court
The CBI team left the residence shortly after finding that Chidambaram is not present in the house, news agency ANI confirmed.
Visuals of CBI Team at Chidambaram's Residence:
The team of Central Bureau of Investigation (CBI) officers has left from the residence of P Chiadambaram. https://t.co/SnKbDKhElP

— ANI (@ANI) August 20, 2019
The Delhi HC bench, which rejected the anticipatory bail plea moved by veteran advocate and Congress leader Kapil Sibal on behalf of Chidambaram, said  the accused cannot be granted protection from arrest only on the basis of him being a member of Rajya Sabha.
"Facts of the case prima facie reveal that the petitioner is the kingpin, that is, the key conspirator in this case," Justice Sunil Gaur, who was hearing the case, said.
"It is preposterous to say the prosecution of Chidambaram is baseless, politically motivated and act of vendetta. It is a classic case of money laundering," the judge added.
"This is an economic offence and has to be dealt with iron hands... The hands of investigating agencies cannot be tied up in such a massive economic offence," he further said.
Chidambaram's counsel is likely to move the Supreme Court to challenge the Delhi HC's decision. The apex court will be petitioned for an urgent hearing, in a bid to prevent the former Union Minister from arrest.
Notably, Chidambaram, who was heading the Finance Ministry in 2007, is accused of flouting the norms to allow foreign investment of Rs 305 crore in INX Media. The company had allegedly transferred kickbacks to his son Karti Chidambaram.