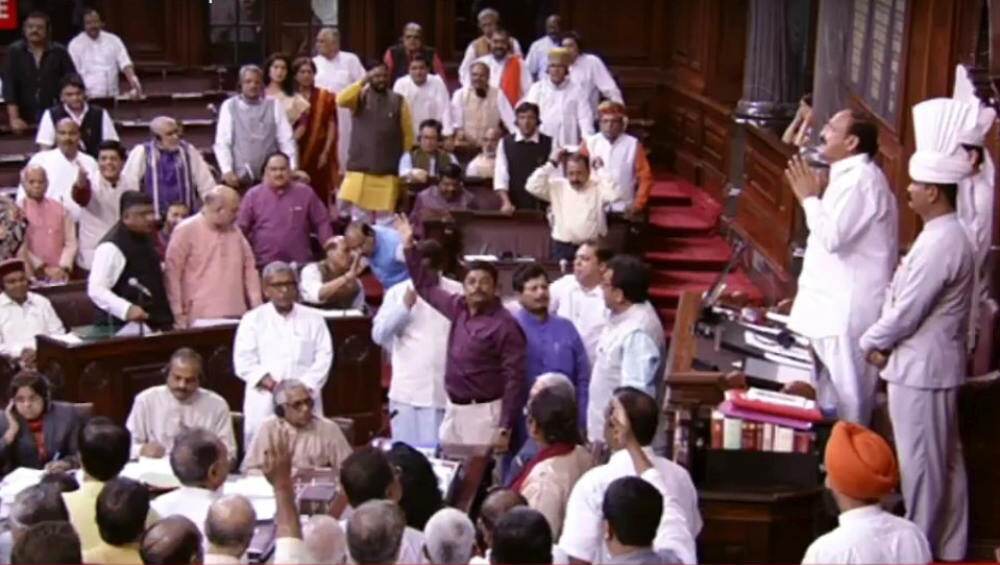 New Delhi, December 10: The controversial Citizenship Amendment Bill 2019 or CAB, which was passed by Lok Sabha at the stroke of midnight on Tuesday, will be introduced in Rajya Sabha today. All eyes will be on the upper house of Parliament where the Bharatiya Janata Party-led National Democratic Alliance (NDA) does not have a majority. With support from some non-NDA parties, the BJP has a chance to pass the Rajya Sabha test. However, the Shiv Sena and Janata Dal (United) may play spoiler. Citizenship Amendment Bill 2019: What Fundamental Rights Article 14, 15 Guarantee And Arguments in Favour of & Against CAB.
Rajya Sabha has an effective strength of 240, meaning the BJP needs the support of 121 MPs to get the Citizenship Amendment Bill passed. The BJP has 83 MPs and the NDA's tally stands at 108, which includes 11 MPs of All India Anna Dravida Munnetra Kazhagam (AIADMK), six MPs of Janata Dal (United), three MPs of Shiromani Akali Dal (SAD) and one each from Lok Janshakti Party (LJP), Republican Party of India (Athawale), Asom Gana Parishad (AGP), Bodoland People's Front (BPF) and Paattali Makkal Katchi (PMK). Citizenship Amendment Bill Debate: Manipur to be Exempted Via Inner Line Permit, Says Amit Shah; Here's How ILP Will Offset CAB Impact.
Moreover, four of the six Independent MPs and three of the four nominated MPs are likely to support the Bill, which takes the number of those in favour of the bill, on paper, to 115. The BJP will bank on Naveen Patnaik's Biju Janata Dal or BJD (7), Shiv Sena (3), YSR Congress Party or YSRCP (2), and Telugu Desam Party or TDP (2) to cross the majority mark. If these parties support the legislation in Rajya Sabha, the BJP will have 129 votes, eight more than the majority mark, in favour of the CAB. However, there could be some twists as well.
Shiv Sena President and Maharashtra Chief Minister Uddhav Thackeray on Tuesday said that his party "would not support the Bill (in the Rajya Sabha) until things are clear", according to news agency ANI. After calling the CAB an attempt to create an "invisible partition" of Hindus and Muslims in its mouthpiece Saamana on Monday morning, the Shiv Sena supported the legislation in Lok Sabha "in the national interest" later in the day.
The JD(U) may also change its stand in Rajya Sabha. JD(U) national general secretary Pawan Verma on Tuesday urged Nitish Kumar to reconsider party's position on the CAB. He said that the legislation is "discriminatory" and "unconstitutional". After the JD(U) supported the Bill in Lok Sabha, JD(U) vice president Prashant Kishor also expressed disappointment over the party's move. "Disappointed to see JDU supporting #CAB that discriminates right of citizenship on the basis of religion. It's incongruous with the party's constitution that carries the word secular thrice on the very first page and the leadership that is supposedly guided by Gandhian ideals," he tweeted.
The Opposition has 105 MPs which include Congress's 46, Trinamool Congress' (TMC) 13, Samajwadi Party's (SP) 9, Telangana Rashtra Samithi's (TRS) 6, five each from Communist Party of India (Marxist) or CPI-M and Dravida Munnetra Kazhagam (DMK), four each from Bahujan Samaj Party (BSP), Nationalist Congress Party (NCP) and Rashtriya Janata Dal (RJD), Aam Aadmi Party's (AAP) 3, Peoples Democratic Party's (PDP) 2 and one each from Communist Party of India (CPI), Indian Union Muslim League (IUML), Kerala Congress and Marumalarchi Dravida Munnetra Kazhagam or MDMK (1).