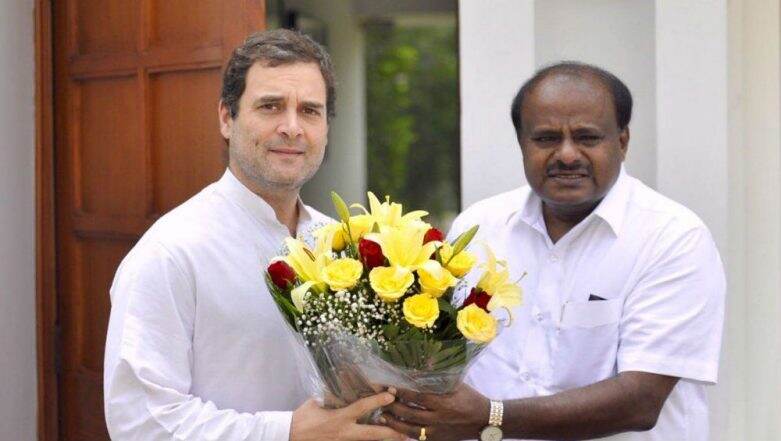 Bengaluru, March 13: After hectic negotiations, the Congress and the Janata Dal (Secular) have sealed the seat-sharing pact in Karnataka. As per the formula agreed to by the two parties, the Congress would contest on 20 seats in the upcoming Lok Sabha elections 2019, whereas, the JD(S) will field its candidates on the 8 remaining parliamentary constituencies in the state.
Karnataka elects a total of 28 lawmakers to the Parliament's Lower House. The Congress-JD(S), who formed a post-poll coalition following the assembly elections in May last year, decided to ink a pre-election pact ahead of the Lok Sabha polls, to prevent the "division of secular votes". Mayawati Says BSP Will Not Tie-up With Congress in Lok Sabha or Any Other State Polls.
The JD(S) state leadership had posed an uncompromising stand before the Congress, seeking to field its candidates from 12 constituencies. Party president and former Prime Minister HD Deve Gowda, signalled a shift after meeting his Congress counterpart Rahul Gandhi.
Gowda had said that his party could agree to 10 seats, but added that the pre-poll alliance would be sealed under any circumstance to defeat the BJP in the forthcoming polls.
In the 2014 general elections, the BJP - riding on the Narendra Modi wave - won 17 of the 28 seats, whereas, the Congress retained 9 and the JD(S) was reduced to 2 constituencies.