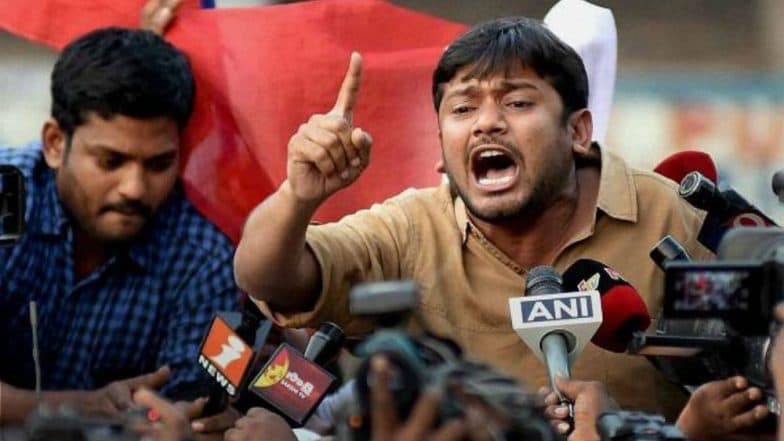 New Delhi, September 6: Delhi Police's request for obtaining sanction to prosecute former JNU Students' Union president Kanhaiya Kumar and others named in the sedition case has been rejected by the Delhi government, reported The Indian Express. The case pertains to an event that was held in JNU campus on February 9, 2016. A video doing rounds had claimed that anti-India and pro-Kashmir slogans demanding independence for valley was raised in a programme that was held to protest against the hanging of terrorist Afzal Guru. JNUSU Terms Sedition, Criminal Conspiracy and Rioting Charges Against Kanhaiya, 9 Others as 'a Clear Case of Vendetta'.
Delhi Police earlier this year had slapped the charges of sedition, rioting, and criminal conspiracy among others on former JNUSU president Kanhaiya Kumar and nine others in the three-year-old incident which rocked the campus of one of India's premier universities - Jawaharlal Nehru University (JNU) on the evening of February 9, 2016.
The Delhi Police, which acts under the Ministry of Home Affairs, had filed the charge sheet in the court stating the sanction for prosecution was pending before the government. Kanahiya Kumar was leading a procession and supported seditious slogans raised on the JNU campus during an event held in February 2016, the charge sheet said.
Former JNU students Umar Khalid, Shela Rashid and Anirban Bhattacharya were also named in the charge sheet for allegedly shouting anti-national slogans during the event to mark the hanging of Parliament attack mastermind Afzal Guru.
The Home Department's view on the case is that the activities which were allegedly conducted by the accused on the evening of February 2016, "do not amount to sedition against the State". The next date of hearing in the JNU sedition case is September 18.