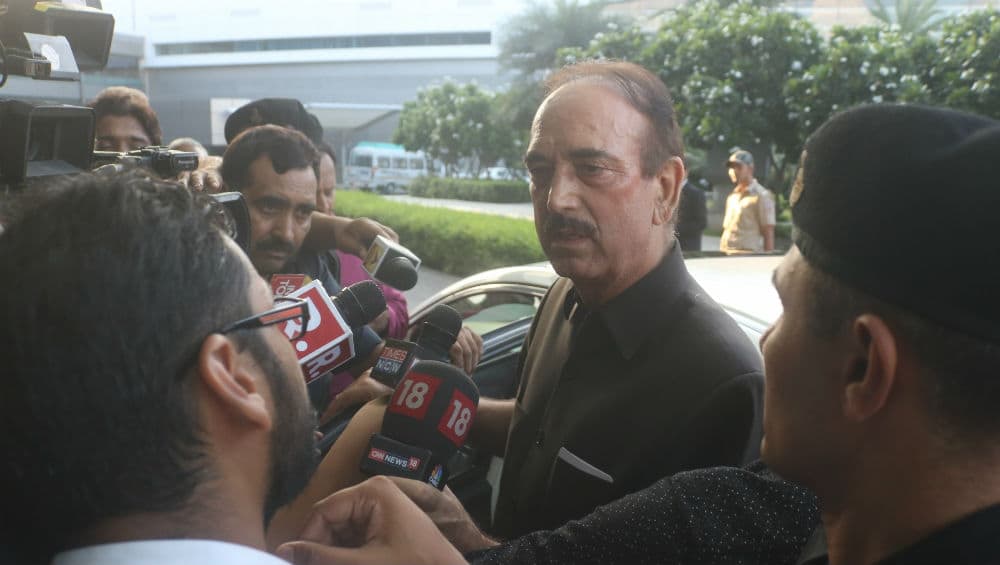 Srinagar, September 25: Former Jammu and Kashmir chief minister Ghulam Nabi Azad, speaking after his Kashmir visit and on the situation in the valley, termed the situation in Kashmir as distressing and in "despair". Talking to the reporters in Jammu after his Kashmir visit, Azad said that the "amount of despair and distress that is present in Kashmir and Kashmiris, the same is the situation in Jammu." Jammu And Kashmir Under Siege: Security Lockdown, Communication Blackout And UT Status Leave Kashmiris With No Autonomy.
Commenting on Narendra Modi government's decision to abrogate Article 370, which took away the special rights assigned to Jammu and Kashmir, Azad said that, "Except 100-200 people of the ruling party, nobody is happy." UN Human Rights Experts Urge India to End Communication Shutdown in Jammu And Kashmir.
The former Jammu and Kashmir chief minister and senior Congress leader said that he had not seen the extent of fear of administration so much as that in Kashmir and added that "there is no democracy" as far as Jammu and Kashmir is concerned.
Read the Tweet Below
Former Jammu and Kashmir CM and Congress leader Ghulam Nabi Azad in Jammu after his visit to Kashmir: Administration ka itna aatank maine duniya mein kahin nahi dekha. Democracy naam ki state mein koi chiiz nahi hai. https://t.co/ESMln66Qz7

— ANI (@ANI) September 25, 2019
The Supreme Court on Monday, September 16, had allowed Congress's Rajya Sabha MP Ghulam Nabi Azad to travel to Jammu and Kashmir. While allowing Ghulam Nabi Azad to visit Jammu and Kashmir, a bench headed Chief Justice of India (CJI) Ranjan Gogoi had asked him not to make speeches or hold a public rally. Azad was allowed to visit only Srinagar, Baramulla, Anantnag and Jammu districts. "He will not make any speeches or hold any public rally as per his own submissions," Justice Gogoi said.