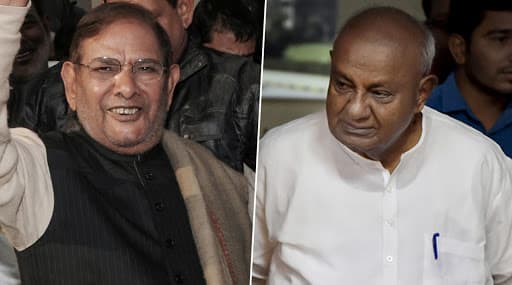 Thiruvanthapuram, December 10: Ahead of the scheduled local body elections next year in Kerala, the stage is being prepared for the merger of Loktantrik Janata Dal (LJD) and the Janata Dal (Secular) into a single entity. Both the parties are part of Chief Minister Pinarayi Vijayan's Left Democratic Front in the state.
Signalling the merger of the both parties, state president of JD(S) CK Nani staid, as reported by the Indian Express, "In the wake of the issues arising in the country, the Janata Dal would be able to respond better to the complaints of the people if it functions as a single entity. For several years now, both parties have functioned separately." Anger Grows Over Crimes Against Women: Walayar Rape Acquit Thrashed in Kerala, Another Accused of Sexual Assault Attacked by Lawyers in Madhya Pradesh.
Nani also informed that along with JD(S), LJD leadership is also preparing to discuss the issue of the merger in their state executive meeting in Kochi this month. As per the reports, both the parties want to maximise their footprint in the state.
In the 140-assembly, JD(S) has three MLAs while LJD only has a Rajya Sabha MP -- its state chief Veerendra Kumar MP. The JD(S) also has a minister in the state cabinet. Earlier, Loktantrik Janata Dal had aligned Congress-led UDF government and was part of Oomen Chandy cabinet in Kerala.