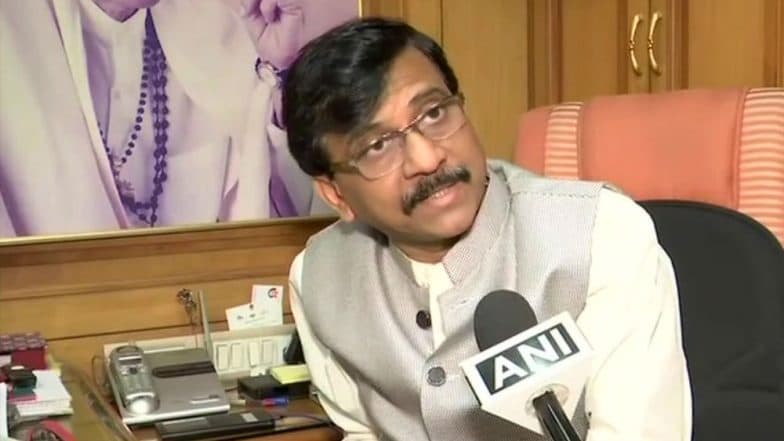 Mumbai, February 14: Shiv Sena leader Sanjay Raut has said that if the BJP led National Democratic Alliance (NDA) comes to power again after getting elected in the 2019 Lok Sabha Elections, then the regional parties like Shiv Sena, Akali Dal and others will have a major role to play. Lok Sabha Elections 2019: BJP, Shiv Sena Seal Seat Sharing Pact in Maharashtra, Says Report.
Raut also made it clear that if the Bharatiya Janata Party (BJP) wants an alliance with regional parties at the Centre, the Chief Minister (CM) in the state has to be from the regional party irrespective of the seats won by the alliance parties. . Lok Sabha Elections 2019: Shiv Sena-BJP Alliance Intact, Will Contest In Maharashtra Together, Says BJP.
Read Sanjay Raut's Comment in the Tweet Below:
Shiv Sena leader Sanjay Raut: If NDA government is formed in 2019, Shiv Sena, Akali Dal & other major allies will have a role. All the allies of NDA are strong in their states & if you want to have an alliance with them at centre, the CM in that state should be from that ally. pic.twitter.com/3KRoPPvMo9

— ANI (@ANI) February 14, 2019
On Wednesday, February 13, there were reports that the BJP and the Shiv Sena have worked out a seat sharing deal for the 2019 Lok Sabha Elections. According to reports, the Bharatiya Janata Party (BJP) will fight on 25 seats and the Shiv Sena will get 23 seats of Maharashtra's 48 Lok Sabha seats. However, there has been no formal announcement from the parties regarding the alliance. BJP-Ally Shiv Sena Slams Narendra Modi for 'Power Like Oxygen' Remarks.
Finance Minister Piyush Goyal was in Mumbai recently and when he was asked about the BJP-Shiv Sena alliance, Goyal said that the BJP has sent an invitation to the Shiv Sena to come along but that there was no response from the Sena so far.
Political observers say the conflict between the Sena and the BJP is regarding the question of who will play the big brother in the state as Sena wants to send a message to its cadre that it is still a bigger player in the alliance. Meanwhile, Maharashtra chief minister Devendra Fadnavis has always expressed confidence that the BJP-Shiv Sena alliance will work out before the 2019 Lok Sabha elections and that there was nothing serious to worry.