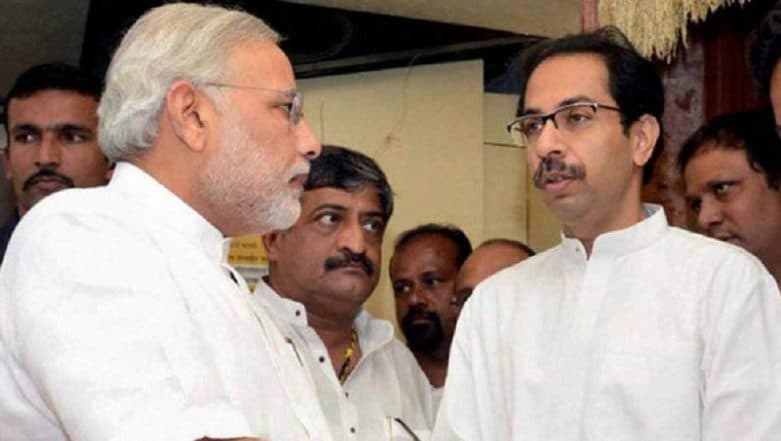 Mumbai, January 25: Amid speculations whether Shiv Sena would maintain an alliance with the centrally ruled-Bharatiya Janata Party in the upcoming Lok Sabha and Assembly elections, a party source in BJP stated that Shiv Sena would remain in the bandwagon. The speculation of Sena thinking to opt out of the alliance gained momentum after Uddhav Thackeray praised Priyanka Gandhi's induction to the Congress by Rahul Gandhi.
While expressing his views, a BJP source pointed out – on condition of anonymity – that alliance between the two right-wing parties is intact for the both the Lok Sabha elections and Assembly polls scheduled this year. However, he pointed out that Sena has some reservations and the muscle flexing by the Maharashtra ally is undoubtedly expected, keeping in mind the domestic aspect of politics. Lok Sabha Elections 2019: People Will See Indira Gandhi in Priyanka, While Going Out to Vote, Says Shiv Sena.
Earlier too, Sena in their mouthpiece – Saamana – had criticised the Narendra Modi-led Union government for multiple issues ranging from Ram Mandir to demonetisation. Also, the Sena chief had criticised PM Modi for his negligence towards solving the agrarian problems of farmers in Maharashtra. Among other issues, that Sena had raised in the past include – GST, inflation, women's safety, etc. It had also boycotted the no-confidence motion in the Lok Sabha last year.
But, looking at the aspect of political churning in Maharashtra, Uddhav Thackeray shares close relations with senior BJP leader and Union Minister Nitin Gadkari. And if believed to the reports, Shiv Sena is posturing Gadkari as their preference for the Prime Ministerial candidate for the upcoming Lok Sabha Elections. Though several meeting between BJP chief Amit Shah and Thackeray were seen last year, the interesting part of the meeting is the outcome which might change the course of the political arena.
In the meantime, Shiv Sena had announced to contest the Lok Sabha elections and field candidates in Uttar Pradesh, Bihar and even Jammu and Kashmir, besides Maharashtra. Confirming the report, party spokesperson Sanjay Raut had stated, as ThePrint quotes, "Although we have been contesting assembly elections in different states, we have never seriously contested parliamentary elections from outside Maharashtra until now. We already have a base in these states. In fact, we recently won two municipal seats in J&K, so we are optimistic." Raut had said that BJP might contest for 25 seats in Uttar Pradesh, ten seats in Bihar and one seat from J&K.