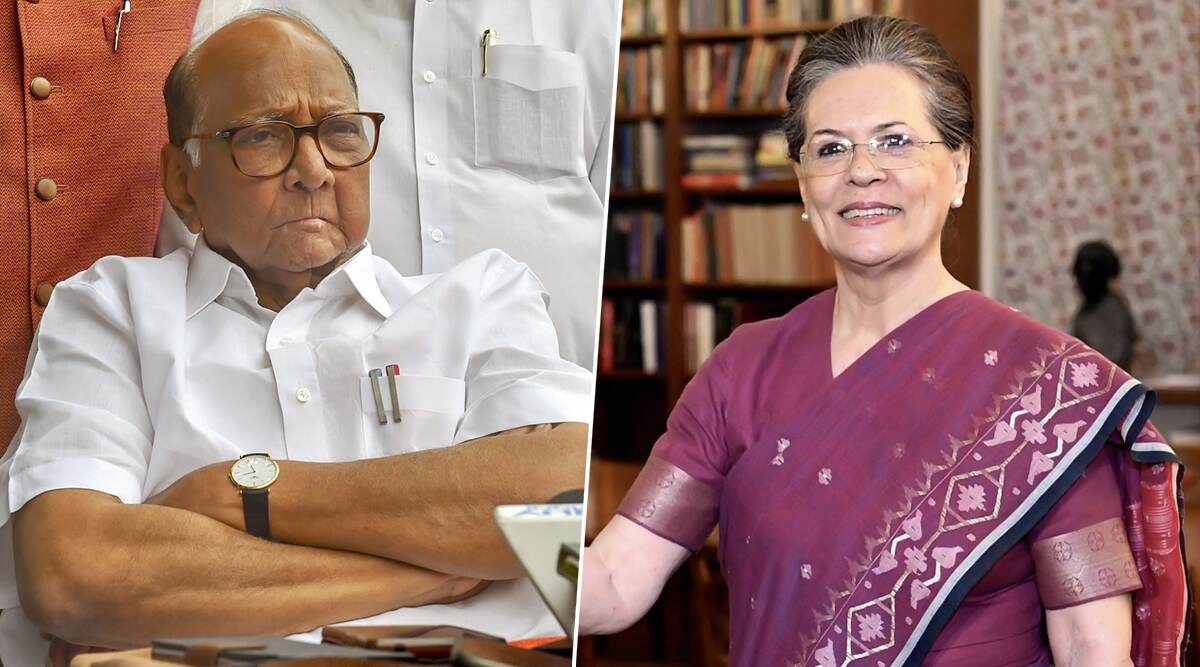 New Delhi, November 18: The political stalemate in Maharashtra continues as the meeting between NCP chief Sharad Pawar and UPA chairperson Sonia Gandhi ended without reaching any specific conclusion on joining hands with the Shiv Sena to form the government in Maharashtra. After the Sharad Pawar-Sonia Gandhi meeting, leaders of Congress and NCP will sit down together on Tuesday to discuss the government formation in the state, said Sharad Pawar. The NCP chief also added that he is monitoring the political situation in Maharashtra and that more talks and time is needed to reach a conclusion in Maharashtra. Maharashtra Government Formation: Sena-NCP-Congress Govt Will Complete 5-Year Term, Says Sharad Pawar.
"Sh. Sharad Pawar met the Congress President today and briefed her on the situation in Maharashtra. It was decided that in a day or two, representatives from NCP & Congress will meet in Delhi to discuss the way forward," tweeted Randeep Singh Surjewala, as soon as the meeting ended. Maharashtra Government Formation: 'BJP-Shiv Sena Fought Together, They Have to Choose Their Way', Says Sharad Pawar.
Earlier, Nationalist Congress Party (NCP) chief Sharad Pawar arrived in Delhi today, on Monday, to hold a meeting with Congress Interim President Sonia Gandhi to discuss the prospects of government formation in Maharashtra. "There is a meeting today," said Pawar when asked about his meeting with Congress Interim President Sonia Gandhi. Maharashtra: Shiv Sena, NCP, Congress Hold First Joint Meeting, Common Minimum Programme.
Read the Tweet Below
Sharad Pawar after meeting Sonia Gandhi: We discussed in detail about Maharashtra's political situation. I briefed her on it. Mr. AK Antony was also there. Certain leaders of both(Congress-NCP) parties will meet and discuss further and get back to us pic.twitter.com/0QKsSsD8oD

— ANI (@ANI) November 18, 2019
Maharashtra came under President's Rule earlier this week after all the parties failed to form a government in the state.BJP, which emerged as the single largest party, could not stake claim to form a government as its ally Shiv Sena remained firm on rotating the Chief Minister's post and equal sharing of Cabinet berths. Shiv Sena parted its ways with BJP only to explore ways to form a government. It, however, failed to prove the support of the required number of MLAs in the time given by Governor BS Koshyari.
The Governor had then invited NCP, the third-largest party, to prove its ability to form the government failing which the President's Rule was imposed in the state on Tuesday.The Shiv Sena is now in parleys with the Congress and NCP to form a government in the state.The BJP won 105 seats in the 288-member assembly followed by Shiv Sena 56, NCP 54 and Congress 44. (With ANI Inputs)