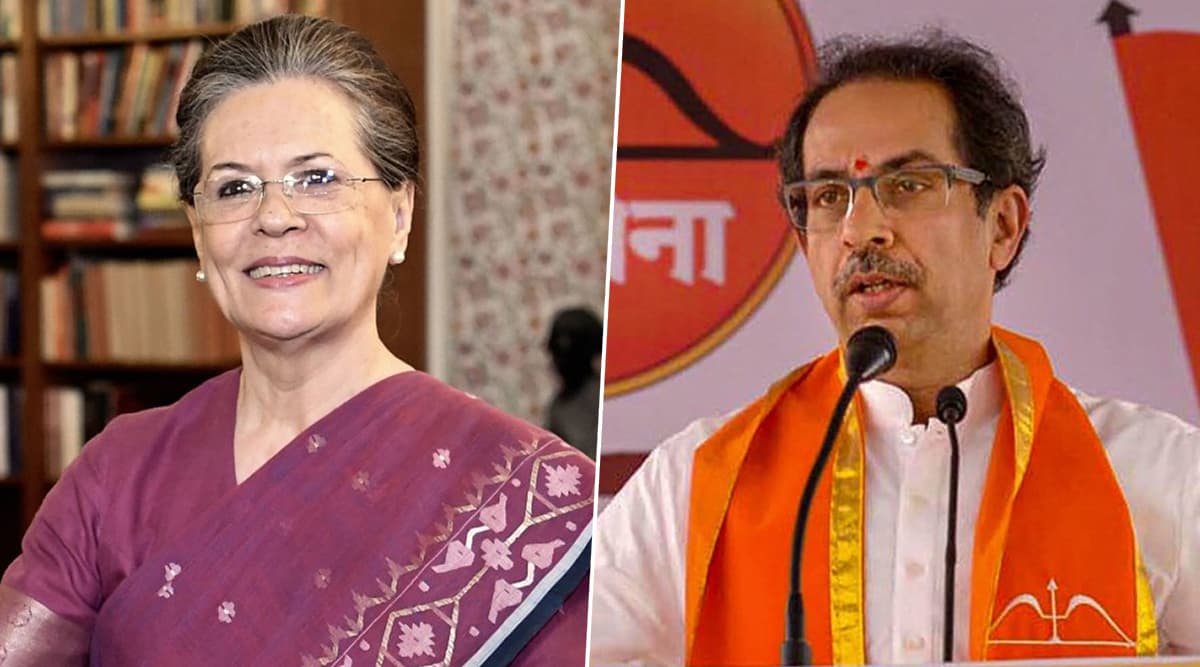 Mumbai, November 11: Congress party has reportedly decided to offer outside support to the Shiv Sena for government formation in Maharashtra. The development comes moments after Shiv Sena President Uddhav Thackeray had a telephonic conversation with Congress Interim President Sonia Gandhi. After Uddhav spoke to Sonia, Shiv Sena MLA Aaditya Thackeray along with other senior party leaders headed to Raj Bhavan to meet Maharashtra Governor Bhagat Singh Koshyari. Amid Maharashtra Impasse, Congress Keeps MLAs at Five-Star Resort in Jaipur to Foil Poaching Attempts.
After speaking to Uddhav Thackeray, Sonia discussed the matter with senior party leaders from Maharashtra and party legislators who are staying at a resort in Jaipur. Gandhi reportedly assured him that she is consulting her state legislators on the issue and would announce her decision soon. Senior Congress leaders Ahmed Patel, AK Antony and KC Venugopal were present at Sonia's residence where the crucial meeting took place. BJP, Shiv Sena Split: Timeline of Maharashtra Political Crisis That Led to Hindutva Allies Breaking Apart.
Former Maharashtra Chief Ministers Ashok Chavan, Prithiviraj Chavan, and Sushil Kumar Shinde, state unit chief Balasaheb Thorat, senior leader Vijay Wattediwar, Rajani Patil and others also attended the meeting at Sonia's residence. Meanwhile, the Nationalist Congress Party (NCP) wrote a letter to the Shiv Sena assuring their support for the government formation in Maharastra. Uddhav Thackeray For Maharashtra CM in Shiv Sena-Proposed Pact With Congress-NCP? Two Deputy Chief Minister Posts Offered.
Earlier in the day, Shiv Sena's sole representative in the Union Cabinet, Arvind Sawant announced he would quit the government over the Maharashtra fallout. The NCP, which bagged 54 seats, set a pre-condition to extend its support that the Shiv Sena will have to snap ties with the BJP.
On Sunday, the BJP informed Governor Koshyari that it cannot form the government despite being the single largest party in the assembly with 105 seats. The Shiv Sena, which won 56 out of the 288 seats in the state, had been insisting on the rotational chief ministership in the state which the BJP refused, leading to the political crisis for the last fortnight in the state.