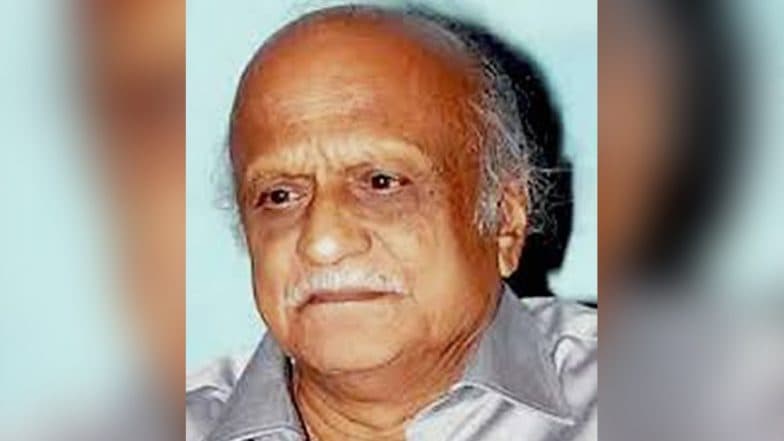 Mumbai, August 17: The Special Investigation Team (SIT) probing the murder of rationalist and writer M M Kalburgi filed a fresh chargesheet in the case. In the chargesheet, the six accused in the case have been charged with murder. The Supreme Court had earlier in the year transferred the probe into the killing of the rationalist to the SIT investigating the murder case of journalist-activist Gauri Lankesh after Karnataka government said there were "common links in the two cases." Same Group of Right-wing Activists Behind Killings of Narendra Dabholkar, M M Kalburgi, Gauri Lankesh: Official.
Kalburgi was a former vice-chancellor of Hampi University and renowned epigraphist, was shot dead at his residence in Kalyan Nagar in Dharwad, Karnataka, on August 30, 2015.
Kalburgi was born in the year 1938. He was a prolific writer and won the Sahitya Akademi award for his writings on old Kannada literature.
The state Crime Investigation Department was probing Kalburgi's killing and the SIT was investigating the murder of Lankesh in September 2017 in Bengaluru.
A plea was filed which siad that the M M Kalburgi murder case and the Gauri Lankesh murder case seemed to have a common link. On January 25, the top court had termed the plea "very serious case".
On December 11 last year, the court had favoured a CBI probe into the murders of Kalburgi, Pansare and Lankesh, if there appeared any "common thread" in these incidents.
The killings of all these three activists happened within a period of five years. The top court had asked the CBI to inform it whether it would like to investigate these three murder cases as it is already probing the killing of Dabholkar.
Karnataka police in its status report had told the top court that there appears to be an "intimate connection" between the killings of Kalburgi in 2015 and Lankesh in 2017.
Meanwhile, in another case of a rationalist and thinker who was killed, the Members of the Maharashtra Andhashraddha Nirmoolan Samiti (MANS) and son of slain rationalist and writer Narendra Dabholkar appealed the CBI to speed up the investigation process in the murder case of the activist.
His son said in a statement that, "Be it the killings of Narendra Dabholkar, comrade Govind Pansare, MM Kalburgi and Gauri Lankesh, one thing is absolutely clear that all these killings were motivated by a cause of finishing rational thoughts."