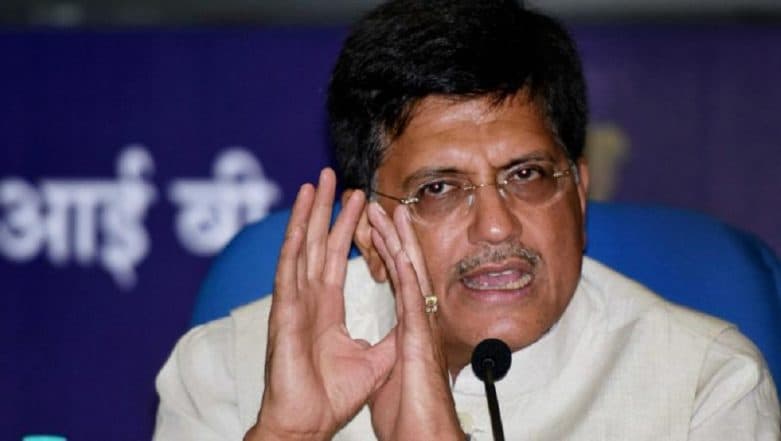 New Delhi, January 23: Union Minister Piyush Goyal, currently holding the key portfolio of Railways, has been assigned the interim charge of Finance Ministry days before the Interim Budget 2019. The decision was taken owing to the ill-health of his senior Cabinet colleague and incumbent Finance Minister Arun Jaitley -- who is currently undergoing treatment in the United States.
Jaitley, however, will continue to remain a Cabinet Minister without a specific portfolio. "During the period of indisposition of Arun Jaitley, the portfolios of Minister of Finance and Minister of Corporate Affairs will be temporarily held by Piyush Goyal in addition to his existing portfolios," reported news agency ANI. Arun Jaitley Leaves for US for Medical Check Up Relating to Kidney Ailment.
Jaitley will continue to remain a Minister without portfolio during the period of his indisposition or till such time he is able to resume his work as Minister of Finance and Corporate Affairs.
The BJP veteran had to relinquish the post for nearly three months in 2018 as well, when he underwent a treatment at the AIIMS to combat a kidney infection. Goyal was also the choice to head the Finance Ministry then in his absence.
Goyal, 54, also holds the independent portfolios of Coal, Power and Renewable Energy since June 2014. He was elevated to the rank of Cabinet Minister on September 3, 2017, after replacing Suresh Prabhu as the Railways Minister.
The upcoming Budget, for the interim period between April-June 2019, will be the first fiscal policy to be presented by Goyal. The Budget will be rolled out before the Lok Sabha on February 1 -- when Both the House of the Parliament would be convened for the final session before the general elections.