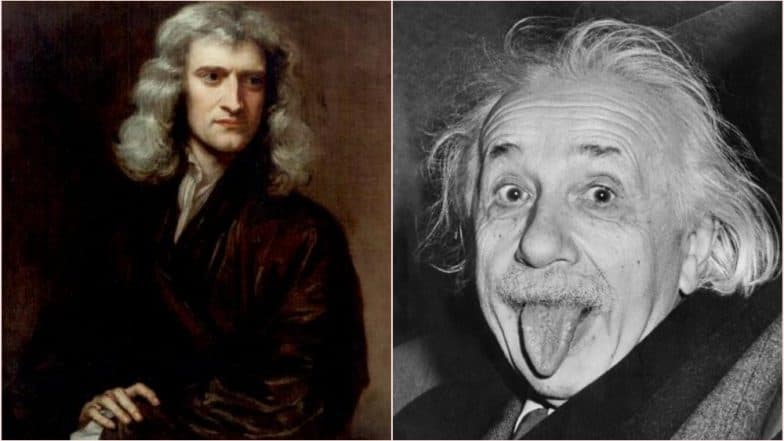 India's Union Commerce Minister Piyush Goyal on Thursday, September 12 asked the media not to go after numbers while measuring the country's development and ended making a gaffe. Defending the government over allegations of economic slowdown at a Board of Trade meeting, Goyal said, "Maths never helped Einstein discover gravity." Goyal's statement got massive attention from millennials who were recently blamed by Finance Minister Nirmala Sitharaman for the automobile crises the country is currently facing. Soon, #PiyushGoyal, #Einstein and #Newton began to trend on Twitter. Many hilariously tweeted asking 'Who discovered gravity? -  Albert Einstein or Sir Isaac Newton'. Tweeples answered the question with funny memes and jokes.
Addressing the media, Goyal said, "Don't get into the calculations that you see on television. Don't get into this maths. Maths have never helped Einstein discover gravity. If we had only gone by structured formulae and what was past knowledge, I don't think there would have been any innovation in the world." Twitter users reminded the Minister, that it was not Albert Einstein but Isaac Newton who discovered gravity. Soon, hashtags questioning who discovered gravity began to trend on social media.
Hear Him Say!
Why should Nirmala have all the fun? Piyush Goyal has just delivered a blockbuster dialogue

"Don't get into calculations about the economy. Don't get into maths. Maths never helped Einstein discover Gravity" 🙄

Millennials and Maths are the problem. Not Modi Govt. Understood? pic.twitter.com/JCoCIbdoxp

— Srivatsa (@srivatsayb) September 12, 2019
Who Discovered Gravity?
Seriously,! Einstein discovered gravity. Was it Newton ....shit we studied wrong things, Mr. Goyal pls tell me whr did u study? It's so educational

— Avelyn (@Avelyn04814022) September 12, 2019
Einstein Arrived:
Einstein just arrived in Manesar, Haryana to check the gravity of crisis in Maruti plant. pic.twitter.com/UVc69EOuDq

— Rofl Gandhi 2.0 (@RoflGandhi_) September 12, 2019
Newton's Reaction on Goyal's Statement:
Piyush Goyal : Einstein discovered Gravity.

Newton ( coming out of his grave ) : pic.twitter.com/gh4tIk0g5X

— Roshan Rai (@RoshanKrRai) September 12, 2019
Millennials Today:
Newton discoverd gravity 🤔 https://t.co/xCS2LGykjJ pic.twitter.com/9o6jT1NRug

— Savitur Tyagi (@savitur143) September 12, 2019
Laughing Out Loud:
piyush goyal: maths never helped einstein discover gravity

einstein, newton, even aryabhatta: pic.twitter.com/qmUL3pGdY6

— millennial falcon (@floydimus) September 12, 2019
We Were Missing Him:
Moment When #Newton get to know about @PiyushGoyal blunder over #Gravity😂😂😂 pic.twitter.com/v20DhsoNd6

— Aman Ranjan (@amansah_asr79) September 12, 2019
Well, Einstein did not discover gravity, Isaac Newton did. Although Newton's theory has been superseded by Einstein's general relativity, most modern non-relativistic gravitational calculations are still made using Newton's theory. It is considered simpler to work with, and it gives sufficiently accurate results for most applications involving sufficiently small masses, speeds and energies.
Goyal's bizarre defence has come after Sitharaman blamed the "millennial mindset" for the slowdown in the auto sector. India's economic growth has slumped for the fifth straight quarter to an over six-year low of five percent in three months ended in June. The automobile sector is in trouble because of a severe fall in output. Several jobs have been lost. Maths can help to understand the state of the economy and if significant reforms are needed.