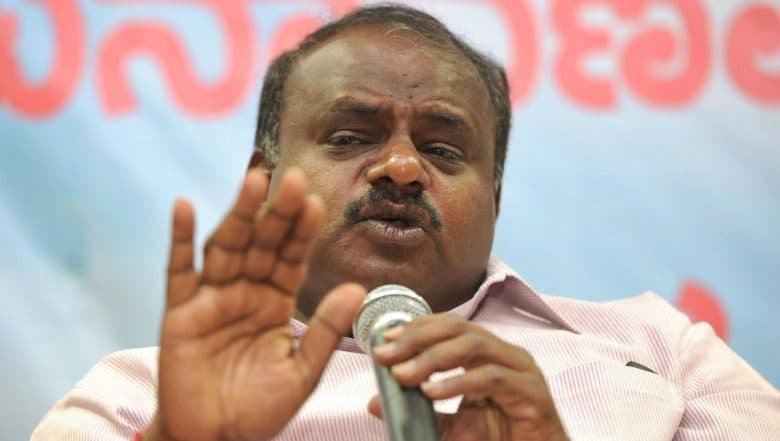 Bengaluru, September 12: Hitting the ruling dispensation at the Centre with a stinging jibe, Karnataka's former chief minister HD Kumaraswamy said Chandrayaan 2 fell short of achieving its intended target due to Prime Minister Narendra Modi's "bad luck". The Janata Dal (Secular) leader further accused the PM of attempting to usurp the success of Chandrayaan 2 from the scientists of Indian Space Research Organisation (ISRO) who had been working on the lunar mission for the last decade. PM Modi Launches BJP Poll Blitz in Haryana's Rohtak; Invokes 'ISRO Spirit.
"PM came to Bengaluru to give a message that he himself was landing Chandrayaan-2. The scientists involved worked hard for 10-12 years, but he came just for sake of advertisement. Once he stepped in ISRO centre, I think it became bad luck for scientists," Kumaraswamy said.
Modi had arrived in Bengaluru last Friday, hours before the ISRO had planned the critical landing of "Pragyaan" rover from the "Vikram" lander. Minutes before the soft-landing on the moon's surface, Vikram lost contact with ISRO.
The shortfall left the team of scientists in tears, as visible through the tragic visuals emerging from the ISRO headquarters in Bengaluru. PM Modi, who was present among the scientists, consoled them and reiterated that there is no failure in the realm of science.
In his address to the scientific community on Saturday morning, Modi promised absolute support from the Centre to allow ISRO to further its lunar ambitions. "There is no power in the world which can stop India from soft-landing on the moon," he said, adding that the nation will always remain indebted to the relentless effort of the ISRO scientists.