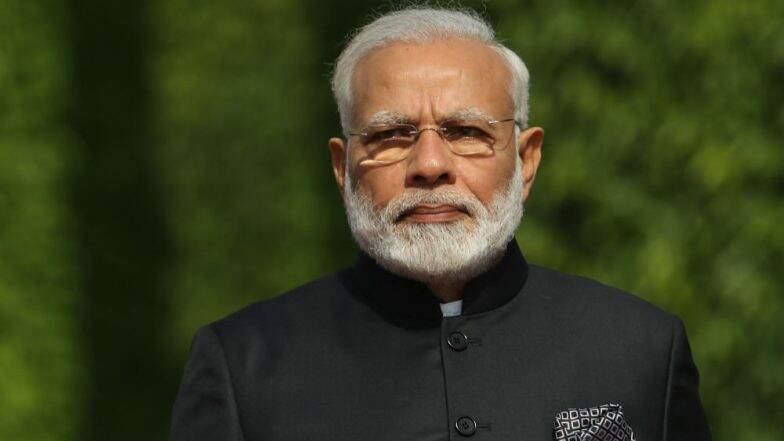 New Delhi, February 19: Prime Minister Narendra Modi will feature in a Discovery documentary slated for release later this month, which would recall his days of spiritual sojourn in the Himalayas. The exclusive shooting was held in Uttarakhand Jim Corbett National Park last week. Local newspapers and social media handles shared images of the PM with the filmmakers in the park.
Modi had arrived in Dehradun at around 7am in the morning on February 14. He was subsequently taken to the Jim Corbett National Park using the MI-17 chopper. The shooting for his upcoming documentary began around noon. NDA Govt Risks Wildlife by Giving 20% More Infra Clearances Than UPA-II Tenure, Activists Sound Red Alert.
Apart from shooting with the Discovery crew, Modi also met with the top officials of Jim Corbett National Park, inquiring on the number of tigers in the biosphere, along with measures to increase the population. The Prime Minister also inquired on the steps being taken to boost tourism.
While signing the visitors' book, Modi wrote that he was "happy visiting this place" and would be returning in the future. He further told the officials that, in the near future, the government would be approving a Tiger Safari project from Kotdwar-Pokhara Gate -- which offer an intriguing retreat for the nature lovers.
Modi's visit, however, came on a day when a tragic terror attack was reported in Jammu & Kashmir's Pulwama. 40 CRPF personnel lost their lives in the fidayeen strike, executed by Jaish-e-Mohammed militant Adil Ahmed Dar.
A section of social media users took stinging jibes at the Prime Minister for "working on his own documentary" while the Indian forces were under cross-border terrorists' radar.
शोक नहीं शौक: PM Modi was briefed immediately about the #PulwamaTerrorAttack when he was about to shoot for a film for Discovery at Corbett. Instead of rushing back to Delhi, he spent the entire day at shooting & returned only late in the evening.

But, let's not Qn the Govt! pic.twitter.com/KIMAz4MHV5

— Gaurav Pandhi (@GauravPandhi) February 18, 2019
Following the attack, Modi expressed grief and assured the nation that the perpetrators of the cowardly strike would be brought to justice. He also warned Pakistan of dire consequences if it continues to abate terrorism against India.