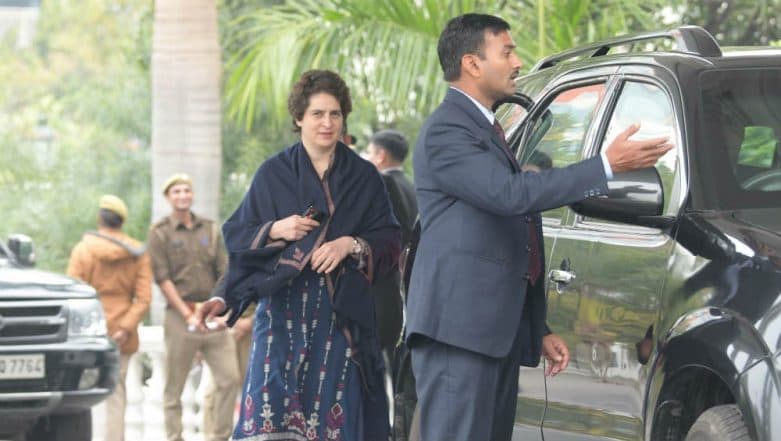 Priyanka Gandhi Vadra while campaigning in Raebareli before the 2012 Uttar Pradesh elections exhorted voters to change the 'negative politics' prevalent in the state. Asserting that the vote should be for their future, Priyanka said, "You can make or break a sarkar with your vote. Learn to fight for your right. Vote for your development, not for any neta." After seven years, Priyanka, now the general secretary of the Congress, delivered another speech on Tuesday and it seems nothing has changed.
In her first political rally in Gujarat, the home state of Prime Minister Narendra Modi, Priyanka told electorates that their votes are a 'weapon' which should be used wisely, disregarding useless issues and tall claims made by others. "Your awareness is a weapon, your vote is a weapon. It is a weapon where no one will get hurt or sad, it is that weapon which will make you strong," she said. The problem is Priyanka sounds like a revolutionary and not a politician. She is repeating the two mistakes her brother and Congress President Rahul Gandhi did.
Not a 24/7 Politician:
Priyanka Gandhi Vadra was all over TV screens and newspapers for days after her entry into politics on January 23. However, she gave her first glimpse when she dropped her husband, Robert Vadra, off at the Enforcement Directorate office in Delhi. For the next five days, she remained out of the public eye. Later, she appeared in Lucknow, joined Rahul for a roadshow and had a meeting with party workers. For the next two weeks, she again wasn't seen or heard. Lok Sabha Elections 2019: Priyanka Gandhi Gets Charge of 41 Seats Including Amethi and Raebareli in UP, Jyotiraditya Scindia Gets 39.
Priyanka was supposed to address a press conference on February 14 but deferred it due to Pulwama terror attack. After the gap, she showed up at Rahul's residence for a photo-op with rebel BJP MP Savitribai Phule who joined the Congress in March first week. Again, there was a lull which ended on Tuesday when she addressed a rally in Gujarat. This all shows Priyanka is repeating the mistakes Rahul committed and still not prepared to take on PM Modi who is on 24/7 campaign mode.
Priyanka Gandhi Vadra is showing traits that are usually associated with Rahul who would be seen and heard after gaps of weeks till 2015. He became more active and aggressive after a 57-day sabbatical but continued going on holidays after poll campaigns in different states. Priyanka is not starting from where Rahul left but from where he had started his politics. She needs to understand being in the public eye is a must if you want to defeat PM Modi who is a master in drawing public and media attention.
Watch: Priyanka Gandhi Makes Political Debut With Mega Roadshow
Picking Unrelatable Issues:
It seems Priyanka neither learned from Rahul's mistakes nor from his miracles. Rahul's focus on agrarian distress and jobs apart from Rafale salvo paid huge electoral dividends in recently concluded assembly polls in Rajasthan, Madhya Pradesh and Chhattisgarh. However, in her speech in Gujarat, Priyanka briefly spoke on unemployment and skipped farmers. No doubt, social and political reforms are noble issues but she cannot just rely on these topics when it comes to electoral politics.
It was her first address at a political rally after taking the charge as Congress's general secretary and Priyanka was expected to make a strong pitch on bigger issues such as employment. However, she looked in a hurry and didn't speak at length. Yes, a politician cannot be judged upon one public speech, but the old Priyanka was more pointed and sharp in her attacks and responses. The new Priyanka is following the wrong steps which Rahul took.
Priyanka should target PM Modi and his Bharatiya Janata Party (BJP) on farmers' distress and unemployment - issues on which the saffron brigade often fumbles. Instead of giving rehearsed speeches, Priyanka should be spontaneous as she had been before taking the political plunge. Watch her impromptu responses to media and during rallies, and you will realise why she is often seen as the strongest leader from the Congress who can go head-to-head against PM Modi.
This article is not written to hurt the public image of any individual mentioned in the article. We at LatestLY do not intend to hurt or insult any person's sentiment involved. The opinions expressed in the above article are of the author and do not reflect the stand or position of LatestLY.