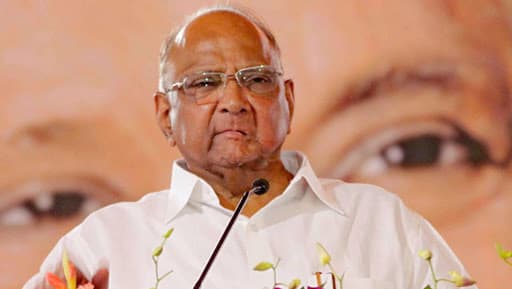 Mumbai, September 25: Nationalist Congress Party (NCP) president Sharad Pawar, while reacting to the case filed against him by the Enforcement Directorate, said he is "ready to go to jail". Pawar's reaction came after he was booked by the central agency for his alleged role in a money laundering case linked to the Rs 25,000 crore Maharashtra Cooperative Bank scam. Apart from the NCP chief, his nephew Ajit Pawar, Shiv Sena leader Anand Rao Ansul, PWP veteran Jayant Pail and Congress' Madan Patil were also named in the additional chargesheet.
"Case has been registered. I've no problem if I've to go to jail. I'll be pleased as I've never had this experience. If someone plans to send me to jail,I welcome it," Pawar, the former chief minister of Maharashtra, said.
The inclusion of Pawar's name in the FIR comes days before the assembly elections in the state. The NCP is likely to use the political vendetta charge against the ruling BJP as one its poll plank moving into the electoral battle.
The party has called for a day-long bandh in Maharashtra's Baramati to protest against the ED case against Pawar. The shutdown is expected to evoke mass support as Baramati is the bastion and home-turf of the NCP founder. The Central Industrial Workers' Union of Baramati has lended support to the bandh call.
Adhering to the shutdown call by the NCP, most colleges, schools and other educational institutions are expected to remain closed today. Most types of business establishments are also likely to keep the shutters down for at least half of the day, local media said.