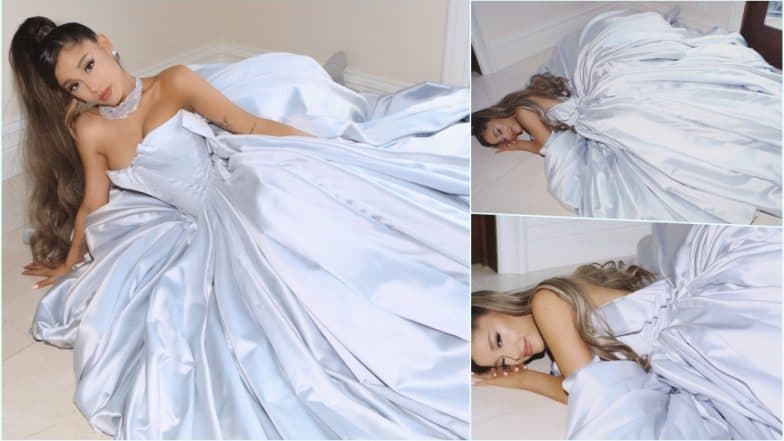 Ariana Grande has become more of a talking point at Grammy Awards 2019, than the ceremony itself. The singer actually ditched the ceremony but has been grabbing headlines just by posting series of tweets related to it right since the ceremony begun. She boycotted the ceremony after having an online tiff with Grammys producer, Ken Ehrlich. She cancelled her performance here and yet received her first grammy award this year for her song 'Sweetener'. Obviously, she was not here to receive it but that did not stop her from dolling up in the custom made Zac Posen gown. Ariana Grande Says 'F*CK' as She Wins Trophy For 'Sweetener' at Grammy Awards 2019 Despite Fallout With Producers.
So, she had this blue strapless, flowy gown ready for the big event. Customised by Zac, it had that 'Cindrella' feel to it and she looked perfect into it. However, due to the bizarre last-moment fight that she had with the producers, she cancelled going to the event. But then, her fans deserved to have a glance of her red-carpet moment, she must have thought! Hence, she posted these bunch of pictures of herself in the dress with the caption, "when @zacposen makes u a custom gown it doesn't matter if you're singing or not ... thank u."  There's a goofy dog video too, where the pet tried to get hold of her long dress!
Ariana's red carpet moment at home
Chilling in a custom made gown be like...
View this post on Instagram
Winking her way through the big Grammy Win
View this post on Instagram
The super-cute dog video
View this post on Instagram
Check out this video! 
Meanwhile, she was kind of upset as her late, former ex-boyfriend Mac Miller lost his last chance to be a Grammy winner. His song "Swimming" was running in the nominations along with Cardi B's "Invasion of privacy" under 'best rap album' category. However, the latter took away the trophy, which instigated Ariana to post some angry tweets. She later clarified that she wasn't throwing shade at Cardi B but was just upset over Mac.