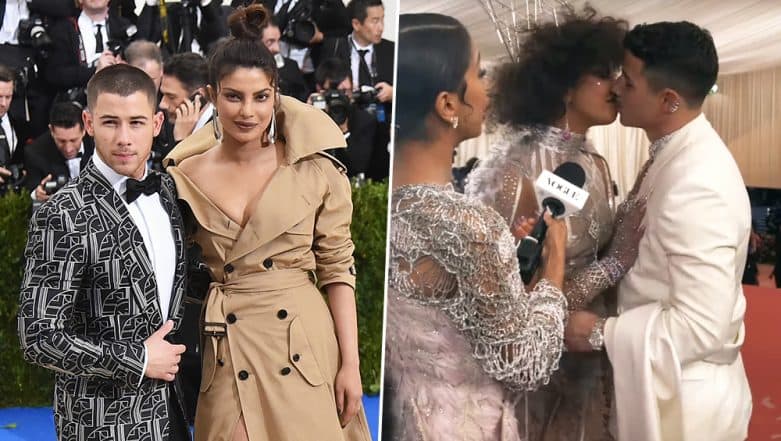 Priyanka Chopra and Nick Jonas' killer outing at Met Gala 2019 red carpet was the topic of discussion. The fans were obviously stunned at the choice of her bold outfit but then, that's Priyanka Chopra and that's what you should expect from her! Apart from that, her chemistry with husband Nick Jonas is another topic of discussion. At the event, they actually stole a kiss during an interview and even wished 'Happy anniversary' to each other! Priyanka Chopra Looks Mighty Impressed with Nick's 'Bonas Jonas' In This Instagram Pic from Met Gala 2019.
For those who are confused, the couple first met and appeared together during Met Gala 2017 red carpet. Not just their outfits but their appearance together had triggered the speculations of them dating and the rest is the history. Now, as it is 2019, the host made sure to mention the same and wished them for their 'third anniversary', well technically! The duo too then wished each other and kissed. Check out the entire video below.
As always, PC made a statement at this event as well. She stated that she loves to pull off something that defines who she is. Hence, this time too, she chose this dramatic look for the big day but did not forget to put the 'bindi' on her forehead. She said that she believes in the amalgamation of the east and the west, hence this look. She also chose her wedding outfit over any other, while terming it the most extravagant outfit till date.