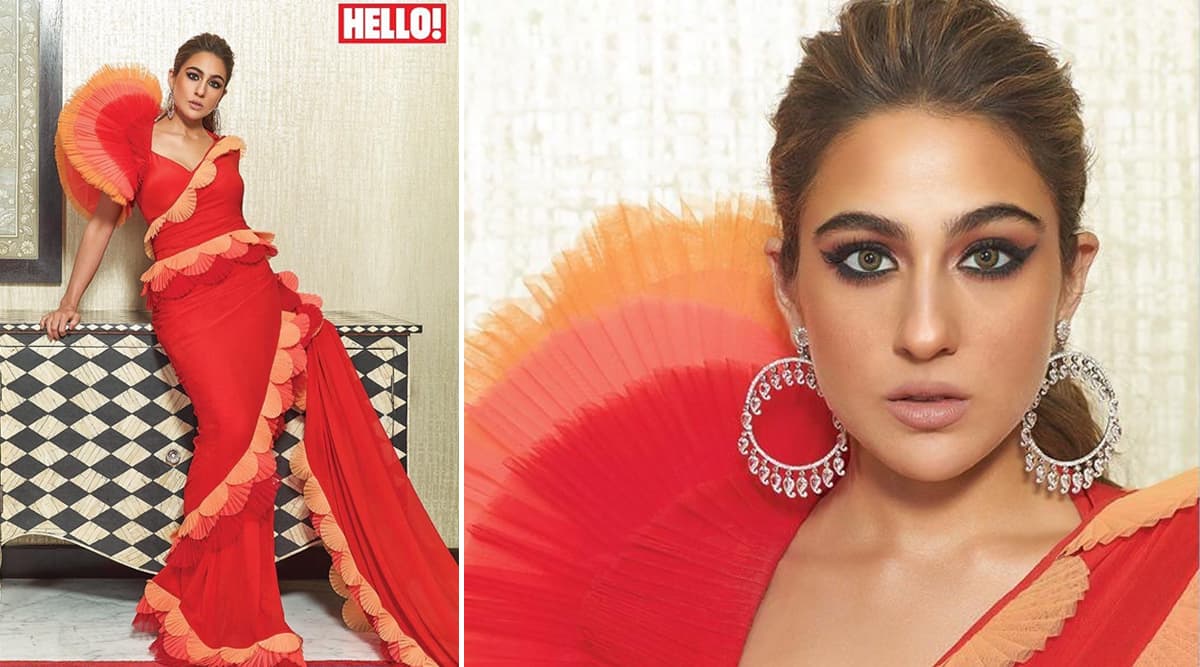 Sara Ali Khan looks nothing like herself on the cover of Hello! magazine. The actress posed for the cover of the magazine's October edition with her brother Ibrahim Ali Khan. Sara looks absolutely gorgeous in every outfit and makeup look, but she seems a little different in the red saree she posed in. She's looking overly tanned and has hazel contact lens on which make her look like a tanned, white woman. Just like Jennifer Aniston on Instyle magazine cover, Sara Ali Khan looks too tanned and we're not feeling this look. In another picture, Sara's abs are looking contoured. We know she works out HARD and has a marvellous body. But why did they find the need to alter her for that?
Sara Ali Khan is a beautiful girl. And that is exactly why we're confused about her newest cover of Hello! Magazine. Why did the magazine find the need to photoshop her to the extent she doesn't look like herself at all? At first glance, it is tough to figure out it's Sara Ali Khan. From her eye colour, to her face structure, nothing is the same and looks extremely done up. What Is Sara Ali Khan's Real Age? Why Is There an Age Difference in What Simmba Actress Claims & Online Data?
Sara Ali Khan for Hello Magazine
View this post on Instagram
The photoshop and makeup create a confusing look. It seems as if the stylists were going for the standard Indian beauty with dusky looks, but still wanted a touch of western aesthetics. And the results speak… not in a good way though. She would've looked way prettier with her natural eye colour. And a word of advice to her makeup artist: There is such a thing as too much bronzer! This is definitely not the way to create a bronzed goddess look.
(Disclaimer: The views expressed here are those of the author and do not necessarily represent or reflect the views of LatestLY.)