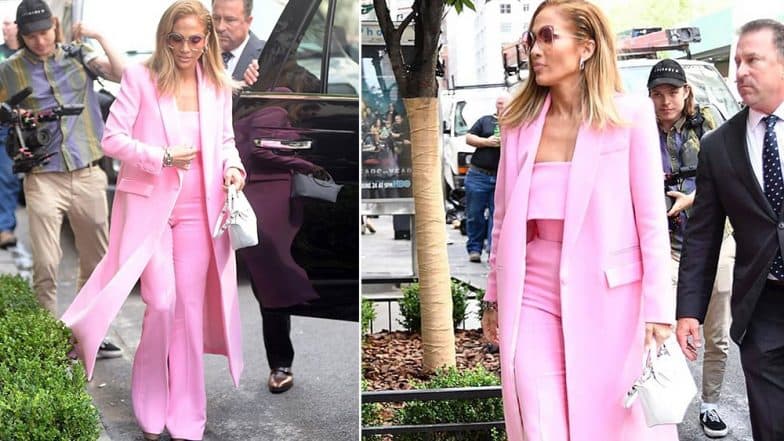 Jennifer Lopez is busy strutting in style for the promotions of her next release, Hustlers. We are still digging her red faux leather dress from the photocall event and we loved the way she paired it with a beret. Slaying always comes naturally to Miss Lopez and she rarely disappoints in that department. Give us an entire day to ogle at her super hot pictures and we'd still crave for some more time. For the girls who believe picking anything pink for their wardrobe is just too cliche, should check out J Lo's new look that's simply gorgeous and chic at the same time.
Jennifer picked a soft pink pantsuit by Alex Perry for her recent round of promotions of the Hustlers movie. Is that an off-shoulder jumpsuit paired with a matching trenchcoat or a simple tube top tucked into the pants? We don't know but the final outcome is really cool and we are all hearts for it. You don't need a stunner to justify such a simple yet brilliant design. But yes, Lopez adds her own charm to it. Yo or Hell No! Sophie Turner in Custom Louis Vuitton Gown at the Deauville American Film Festival.
While we are personally raving about her #OOTD and think it's chic enough to find a place in our closet, do you agree with us? Do you think the outfit is worthy of any attention or it's too plain to evoke any excitement within you? Whatever be your thoughts, don't forget to vote for it right below.
Jennifer Lopez in a Alex Perry Suit - Yo or Hell No?