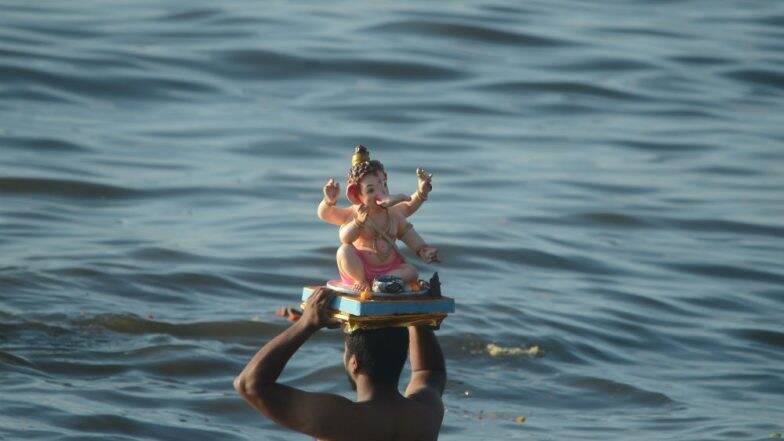 Anant Chaturthi is an auspicious Hindu festival in India, which marks the end of the 10-day long Ganesh Chaturthi festivities. This year, the occasion of Anant Chaturthi falls on September 12. The festival is observed and celebrated by Hindus and Jains across India. Chaturdashi is celebrated the 14th day of the lunar fortnight. In the normal course, Anant Chaturdashi falls 10 days after Ganesh Chaturthi. Along with the reading of texts and group feasting, athletic and martial arts competitions are also held at public venues.  Ganpati Visarjan on Anant Chaturdashi 2019: Best Places in Mumbai to See Immersion of Lord Ganesh Idols. 
The festival is centred on worshipping Lord Ganesha as the God of New Beginnings, the Remover of Obstacles and the God of Wisdom and Intelligence and is observed throughout India, especially in Maharashtra and Gujarat. Irresponsible Ganpati Visarjan Leads to Pollution of Beaches and Rivers, Users Share Pics and Videos of Waste.
Shubh Muhurat of Anant Chaturdashi 2019
This year, Anant Chaturdashi falls on Thursday, September 12.

Anant Chaturdashi Puja Muhurat - 07:27 am to 04:05 am, Sep 13

Duration - 20 hours 38 mins

Chaturdashi Tithi Begins - 01:36 am on Sep 12, 2019

Chaturdashi Tithi Ends - 04:05 am on Sep 13, 2019
Puja Vidhi
Before the idol of Lord Ganesha is immersed in a water body, incense sticks are lit up and a puja is performed with the final aarti. People pray, offer worship and bid goodbye to their favourite deity. After the aartis are done, people offer haldi, kumkum and flowers before the idol. After taking the final blessings from Lord Ganesha, the idol is then taken for immersion.
The process of the Ganesh Visarjan is done with as much fanfare and spirit as the Ganesha Pooja. With a heavy heart, devotees say goodbye to their favourite Lord Ganesha, praying for his speedy return next year.
On the final day i.e. Anant Chaturdashi, the idol is carried in a public procession with music and group chanting. It is then immersed in a nearby body of water such as a river or sea. Reports inform that in Mumbai alone, around 150,000 statues are immersed annually. According to mythology, it is believed that once the clay idol dissolves in the water, Ganesha returns to the mountains to his parents.