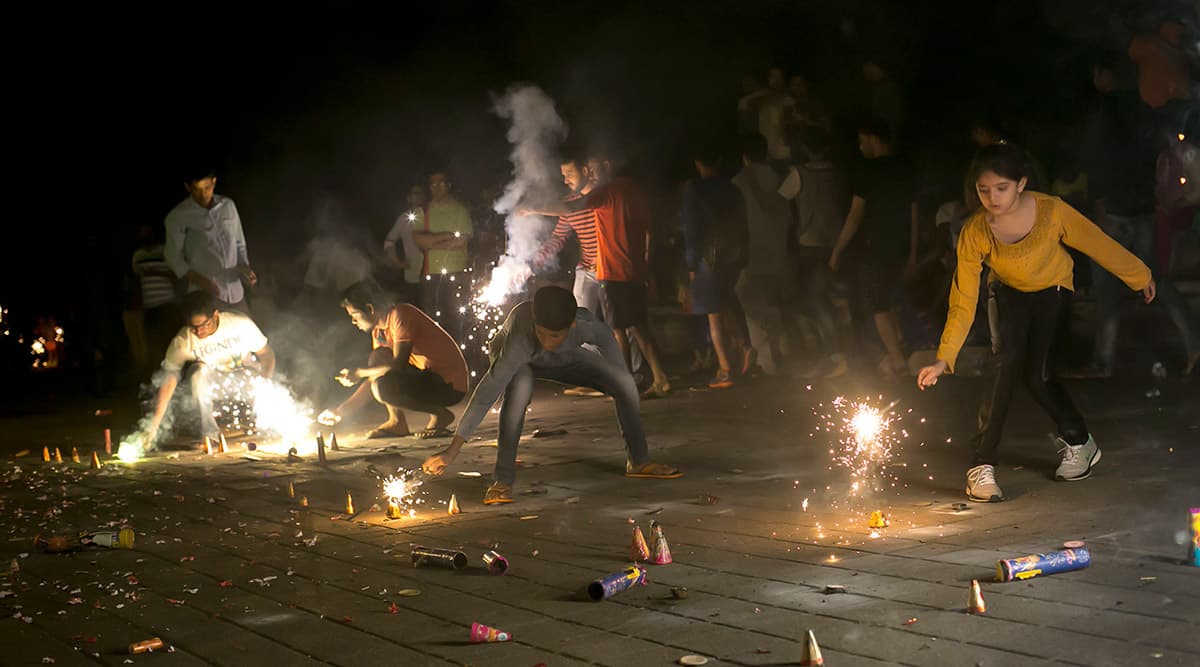 The excitement is only increasing as Diwali 2019 approaches us. We just have a few more days, and there are so many preparations that need your attention. Amidst the decorations and arrangement of gifts, comes plenty of firecrackers. The shooting of firecrackers is a tradition for most Indian families. And it engages the kids during the entire festivity. However, safety comes first! Playing with crackers require a lot of precautions to avoid tragic instances during the festive season. While you cannot restrict your children from playing with firecrackers, it is important that you follow some Diwali safety tips. Below in this article, we have provided ten precautionary measures that every parent must take to keep kids safe from fire crackers this Deepavali. Happy Choti Diwali 2019 Wishes: WhatsApp Stickers, GIF Image Greetings, SMS, Messages and Quotes on Naraka Chaturdashi. 
Whenever we wish our near ones, a 'Happy Diwali,' we tend to express our concern that the festivity is safe too. It is because of those many tragic instances that are followed due to avoidance with firecrackers. Diwali calls for celebration and kids under no circumstances should be barred from enjoying the festival of lights. Hence, it is essential to follow some basic but necessary measures to avoid any unfateful incidents and enjoy cheerful family time on Diwali. From Kali Puja to Tamil Deepavali, Here's How the Festival of Lights Is Celebrated in Different Regions of India. 
10 Safety Tips for Kids:
1. Adult supervision while playing firecrackers is a must. Parents should be present at the time when their kids are lighting the crackers.
2. Keep the firecrackers in a safe store. Do not let your kids keep it in their pockets.
3. Ask your kids to wear some eye protection while bursting firecrackers. Their ears should also be protected with ear plugs or cotton.
4. Ensure that children are wearing soft and cotton clothes and not festive finery to play with firecrackers. Keep their feet fully covered.
5. Always keep a bucket full of water nearby. Sometimes leftover gunpowder can also react with environmental activities. Hence, keeping water in store at your hands reach is necessary.
6. Burst crackers in an open area. It is important to maintain a distance from the firecrackers. Never play firecrackers in an indoor place or areas which is dominated by vehicles parking.
7. Choose your crackers wisely. Try to buy environmental-friendly firecrackers or those which are government licensed.
8. Buy crackers according to the age groups of the kids.
9. Sometime, kids get curious to know why the crackers are silent after burning it. Do not allow the child to go near the crackers, as there might be chances of explosion.
10. Do not forget to soak all the firecrackers in water before disposing them off.
These are some of the important precautions that you must follow while celebrating Diwali. Try to opt for environment-friendly firecrackers. We all have seen how badly it affects our nature. The government had launched green crackers for the festival of lights. Buy those and inculcate good habits in your kids. Taking care of the environment is the utmost responsibility we must not ignore. Besides, keep your pets indoors as they are sensitive to the noise of firecrackers.