Here is the start to the most awaited festival for Jews. Known as the Festival of Lights, Jews around the world are gearing up to celebrate the festival of Hanukkah which is also called as Chanukah. Hanukkah is an eight-day festival and in 2018 it will begin on the evening of December 2 and end on December 10. On this day, Jews come together to commemorate the rededication of the Second Temple in Jerusalem. People wish and greet each other Happy Hanukkah and follow several traditions and rituals and exchange gifts with each other. To mark the occasion, we bring wishes, greetings and messages that you can send across to your relatives and friends on Facebook, WhatsApp, SMS and send good wishes on this auspicious occasion. Hanukkah 2018 Date: History, Significance & Celebrations of Chanukah or the Jewish Festival of Lights.
One of the most important ritual associated with Hanukkah celebrations are lighting of candles. Each night throughout the eight days, a candle is lit on the menorah, an eight-stand lamp. The reason for the Hanukkah lights is not for the lighting of the house within but rather for the people outside the house. The menorah is placed on the window for the passers-by to see it and be reminded of the holiday's miracle. The traditional food prepared on Hanukkah include fried potato pancakes (latkes) and jelly doughnuts are eaten to commemorate the importance of oil during the celebration of Hanukkah. Find below the messages and greetings to share on this auspicious Jewish festival.
Happy Hanukkah 2018 Wishes & Greetings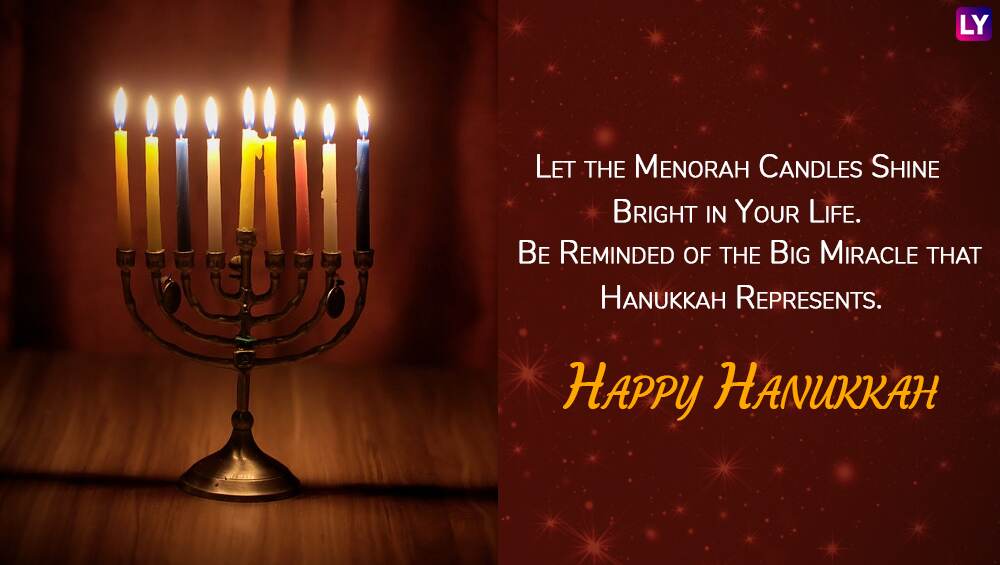 WhatsApp Message Reads: Let the Menorah Candles Shine Bright in Your Life. Be Reminded of the Big Miracle that Hanukkah Represents. Happy Hanukkah.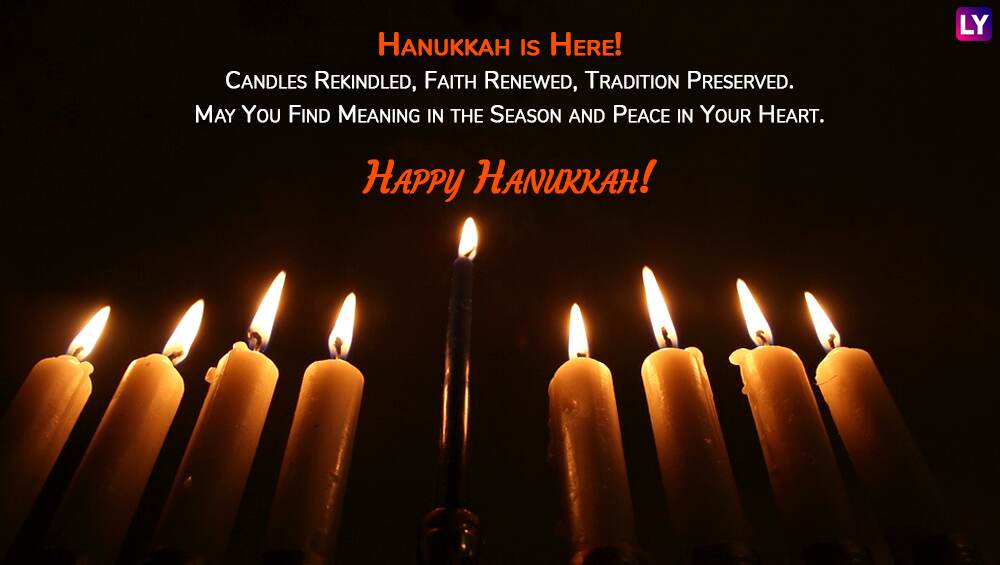 WhatsApp Message Reads: Hanukkah is Here! Candles Rekindled, Faith Renewed, Tradition Preserved. May You Find Meaning in the Season and Peace in Your Heart. Happy Hanukkah!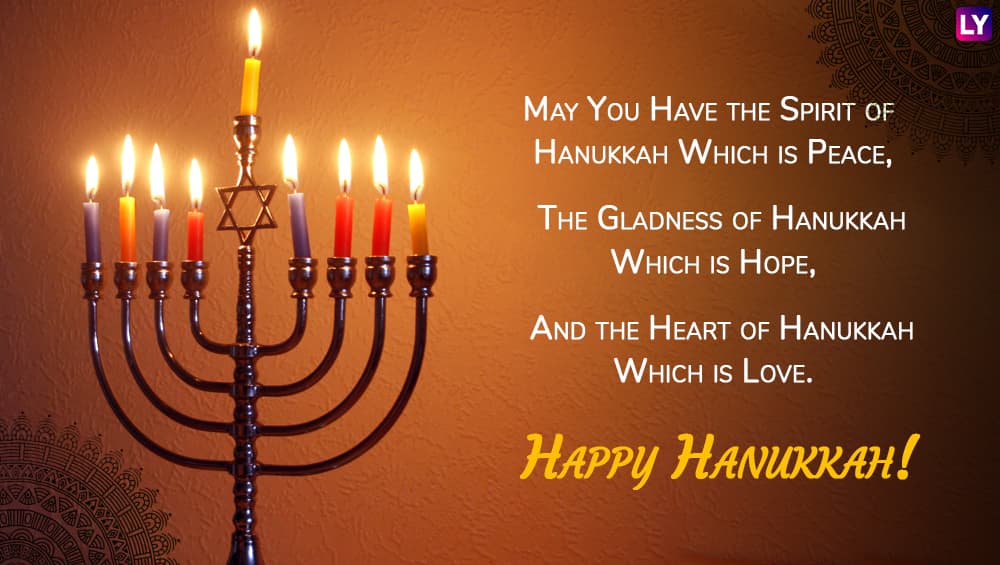 WhatsApp Message Reads: May You Have the Spirit of Hanukkah Which is Peace, The Gladness of Hanukkah Which is Hope, And the Heart of Hanukkah Which is Love. Happy Hanukkah!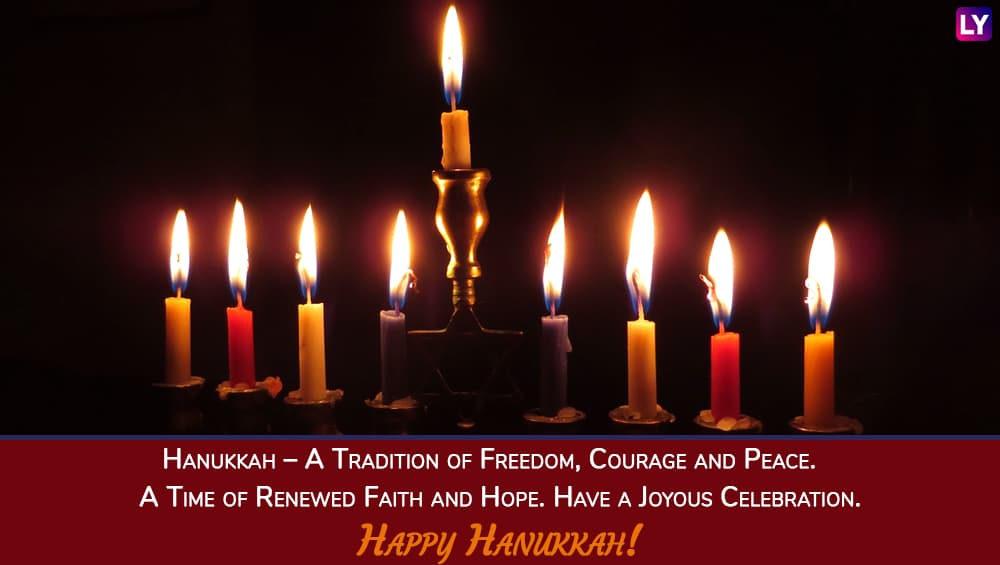 WhatsApp Message Reads: Hanukkah – A Tradition of Freedom, Courage and Peace. A Time of Renewed Faith and Hope. Have a Joyous Celebration. Happy Hanukkah!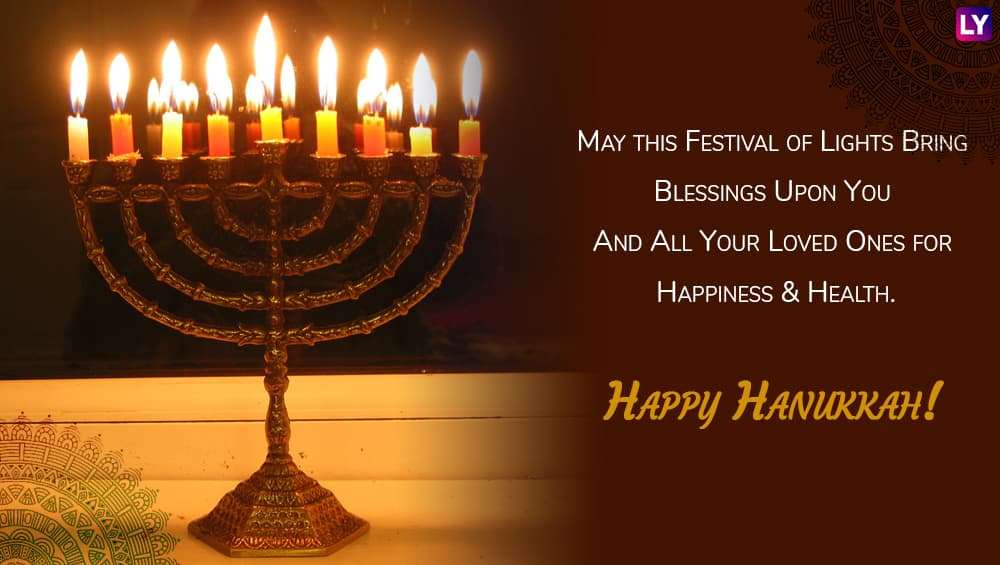 WhatsApp Message Reads: May this Festival of Lights Bring Blessings Upon You And All Your Loved Ones for Happiness & Health. Happy Hanukkah!
GIF Images
After lighting the candles, it is customary to play the driedal. The dreidel or sevivon in Hebrew is a four-sided spinning top that children play with during Hanukkah. Parents or elders give children Chanukkah gelt or Chanukkah money on this occasion. The giving of money adds to the excitement of the festival. This Hanukkah spread good wishes and blessings by greeting each other Happy Hanukkah. From us to you, we wish all Jews a Happy Hanukkah 2018!