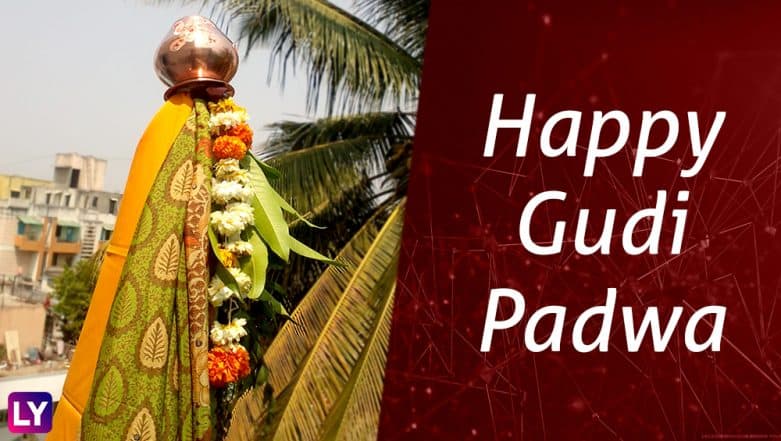 Gudi Padwa is here and Maharashtra is all set to celebrate the spring festival. The auspicious occasion marks the Hindu New Year for the Marathi speaking people of the state. Gudi Padwa or 'Chaitra Shukla Pratipada' signifies the end of one season and the beginning of spring time. For this auspicious day, we have compiled a list of Gudi Padwa messages in Marathi to send  your friends and family. The Marathi Gudi Padwa wishes include WhatsApp greetings, Facebook status, SMS and also GIF Images & Photos. Also check our list of English Gudi Padwa messages.
During the time, farmers prepare to harvest the rabi crops after which the new sowing season begins. People decorate their houses with flowers and rangolis on this day welcoming the new year. This year Gudi Padwa coincides with the beginning of the Chaitra Navratri when devotees worship Goddess Durga in her nine avatars on nine days of celebration.  Gudi Padwa & Ugadi Rangoli Designs: Here are Simple Colourful Patterns to Bring in Your New Year.
Here are Gudi Padwa Marathi messages: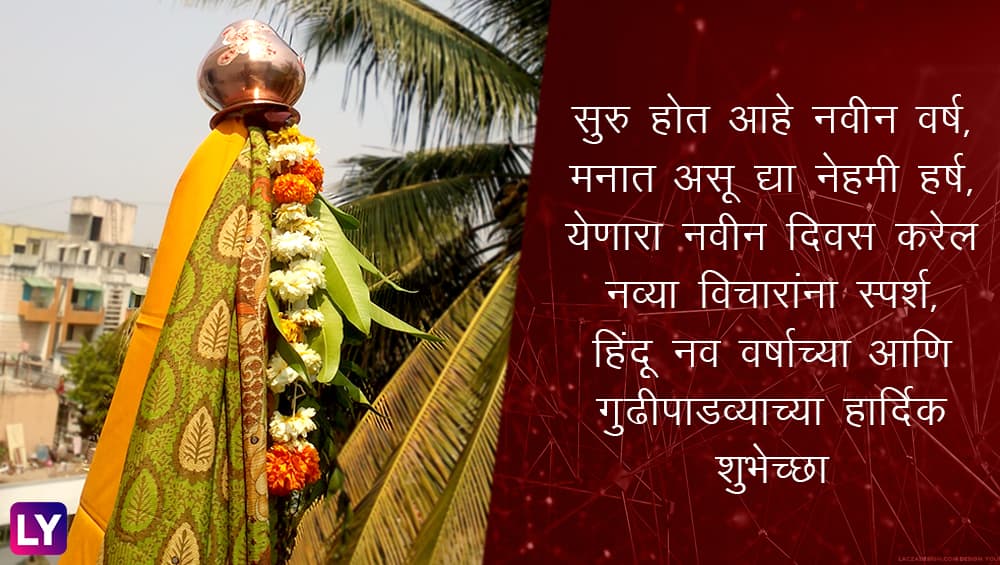 WhatsApp message: Suru Hot Aahe Navin Varsh, Manat Asudya Nehami Harsh. Yenara Navin Divas Karel, Navya Vicharana Sparsh.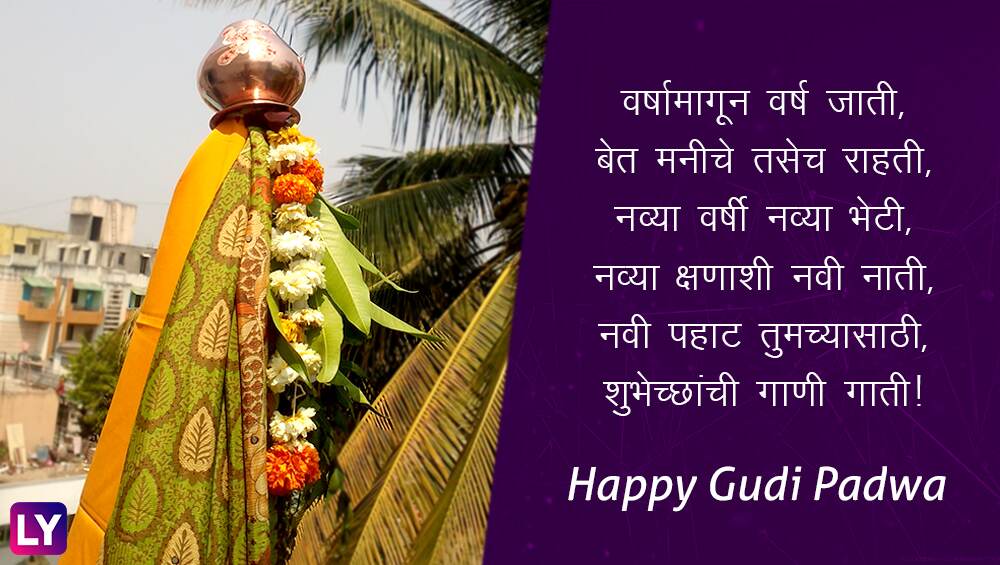 Facebook Status: वर्षामागून वर्ष जाती, बेत मनीचे तसेच राहती, नव्या वर्षी नव्या भेटी,
नव्या क्षणाशी नवी नाती, नवी पहाट तुमच्यासाठी, शुभेच्छांची गाणी गाती! Happy Gudi Padwa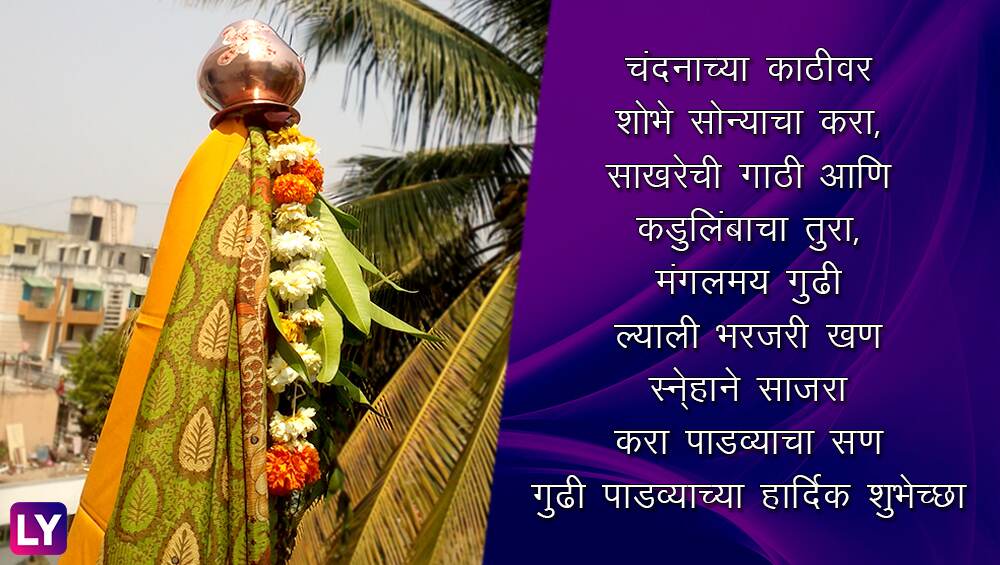 WhatsApp message: चंदनाच्या काठीवर शोभे सोन्याचा करा, साखरेची गाठी आणि कडुलिंबाचा तुरा, मंगलमय गुढी ल्याली भरजरी खण स्ने्हाने साजरा. करा पाडव्याचा सण, गुढी पाडव्याच्या हार्दिक शुभेच्छा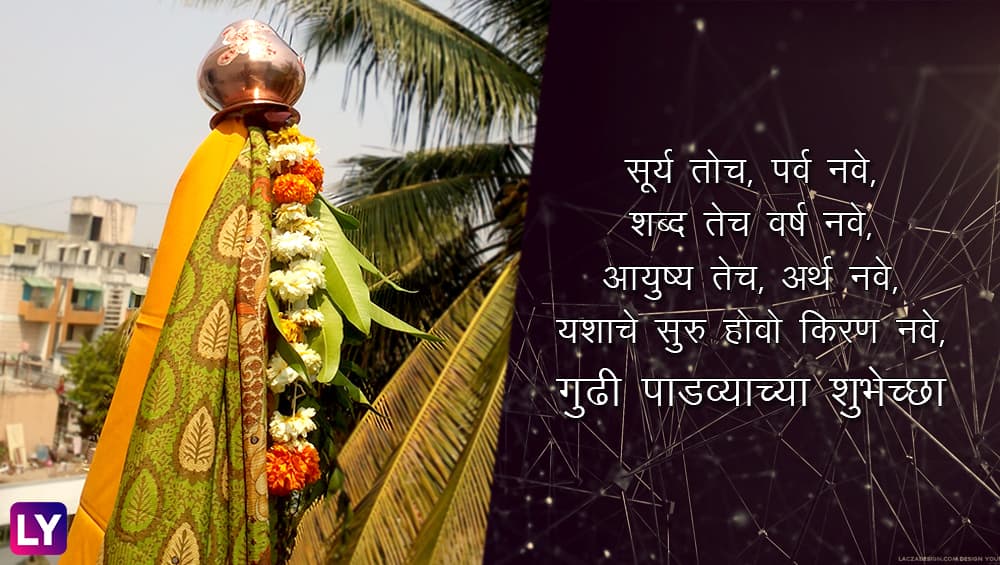 Facebook Status: Surya Toch, Parva Nave, Shabd Tech Varsh Nave, Ayushya Tech, Arth Nave, Yashache Suru Hovo Kiran Nave, Gadhi Padvyachya Shubhechha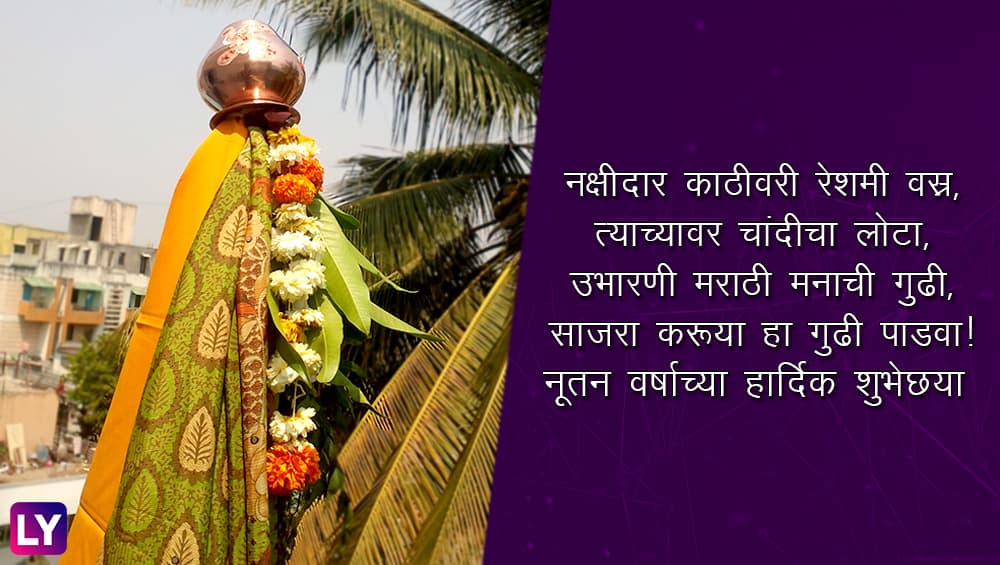 WhatsApp reads: Naxidar kathivari Reshmi vastr, Tyachyavar chandicha lota, ubharuni Marathi manachi GUDHI, Sajra karuya ha Gudi Padwa! Nutan Varshachya Hardik Shubheccha
Gudi is an important part of the festival where in people wrap a green or yellow silk cloth to a bamboo stick and decorate it with red and yellow flowers. An inverted copper or silver pot is then placed on the top of the stick. The gudi is then kept at the entrance or outside the window of the house.
Gudi Padwa GIF Image Greetings: 
Facebook Status: गुढी उभारू आनंदाची, समृद्धीची, आरोग्याची, समाधानाची आणि उत्तुंग यशाची, नव वर्षाच्या शुभेच्छा, शुभ गुढीपाडवा!
The day being the Hindu new year, it is celebrated in different states in the country in various names. Marked by diverse customs and traditions, in Tamil Nadu, the festival is known as Puthandu, in Assam as Bihu, Naba Barsha in West Bengal, Pana Sankranti in Orissa and Vaisakhi in Punjab. Karnataka and Andhra Pradesh also celebrate the Hindu New Year known as Yugadi and Ugadi respectively. Kashmiri Pandits celebrate the day as Navreh. We at Lateslty, wish all our readers 'Happy Gudi Padwa'.  Best WhatsApp Messages, Facebook Status, GIF Images to Send Ugadi Greetings.