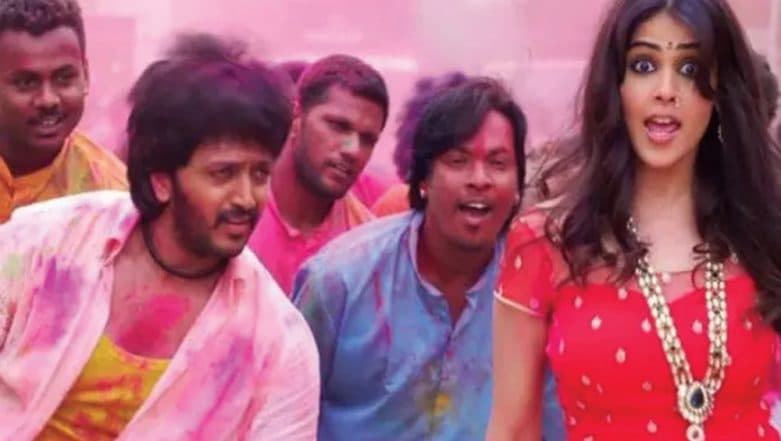 2019 marks Holika Dahan on March 20 while the festival of playing colours is on March 21. In Maharashtra, many also call it as the rangapanchami. Over the years, it has been a ritual to celebrate this festival of colours by lighting up the holika, the previous night, and then splashing colours and water on each other, the very next day. On this day, one also gets to eat the sweet delicacy named Puran poli, specially made for the festival. However, the day cannot be complete without some wonderful holi songs. You might see it in your areas where popular Marathi Holi songs have been played for years together. Tracks like "Ala Holicha San Lai Bhaari", "Kheltana Rang Bai" have been the top contenders. Happy Holi 2019 Wishes in Advance: WhatsApp Stickers, SMS, Facebook Images and GIF Messages to Send First Greetings of The Festival of Colours.
Some of the songs have always remained close to the Maharashtrian music lovers. Not just the locals, but even people who have stayed in the state and learnt the language are fans of these popular numbers that are played on loop in their societies or buildings, just to set the vibe. Here are some of those songs that you too can play if you are planning to play with colours and music, this holi. Holi 2019: How to Throw a Perfect Holi Party; 7 Tips to Keep in Mind.
Ala Holicha San Lai Bhaari-
Kheltana Rang Bai Holicha-
Gulaabachi Kali-
Radhe Naach Naach Udvuya Rang-
Chala Holichya Khela La Ranga-
Holicha Danka-
Aren't these songs simply beautiful? Besides, as kids, almost of the fans must have watched these movies atleast ones. These tracks are celebrated by the music lovers, which are also composed by many known musicians of the Marathi film industry.
While there is a trend of playing Bollywood songs like "Balam Pichkari" or "Rang Barse", these songs remain special when it comes to regional holi songs! Which one is your favourite? Do let us know and have a happy and safe holi!