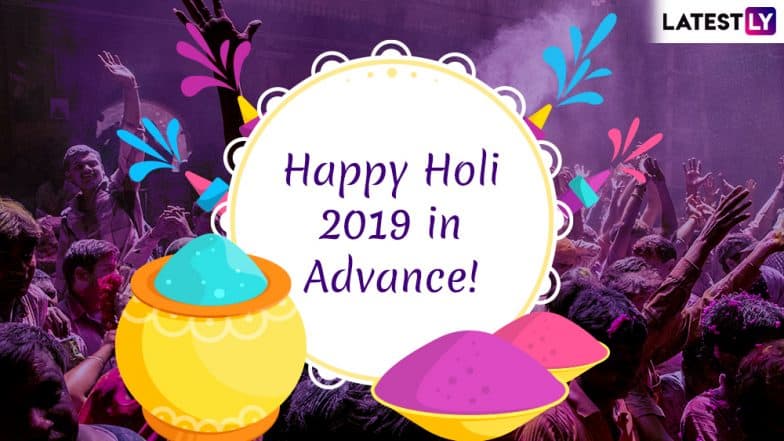 The most colourful time and festival of the year, the festival of Holi is almost here. Holi 2019 will be marked with Holika Dahan on March 20. The next day ie March 21 will be the celebration of Holi with playing colours. It is a time most of us wait to paint the town, not just red but all other colours together. But before we head out for actual celebrations, people also exchange Holi messages and greetings. Everyone greets Happy Holi and splashes the person with colours, almost instantly followed by 'Bura Na Maano Holi Hai.' Holi 2019 may still be a few days away but you can always send in your advance wishes and show your enthusiasm. Holi wishes are also given out on Facebook, Instagram and WhatsApp. You can also send WhatsApp stickers to wish your contacts a very happy Holi. If you are looking for advance Holi greetings, let us help you out with some beautiful images and messages. Brij Holi 2019 Dates and Calendar: Know The Schedule of Holi Festival Celebrations in Religious Towns of Mathura and Vrindavan in UP. 
Holi is celebrated all over the country, but in much enthusiasm in the northern states of Bihar and Uttar Pradesh. The Holika Dahan also known as Choti Holi sees the burning of a holy pyre which symbolises the victory of good over evil. The next morning sees all the fun and frolic of playing with colours and water. There are special Holi celebration programmes arranged which see everyone coming together to celebrate. Special food and drinks are also prepared to mark the celebrations. The varied celebrations of Holi in Uttar Pradesh have already begun. So you can actually start sending advance Happy Holi wishes and greetings. Holi 2019: Funny Memes, Jokes and GIFs to Add More Rang to the Festival of Colours.
Happy Holi in Advance Wishes and Greetings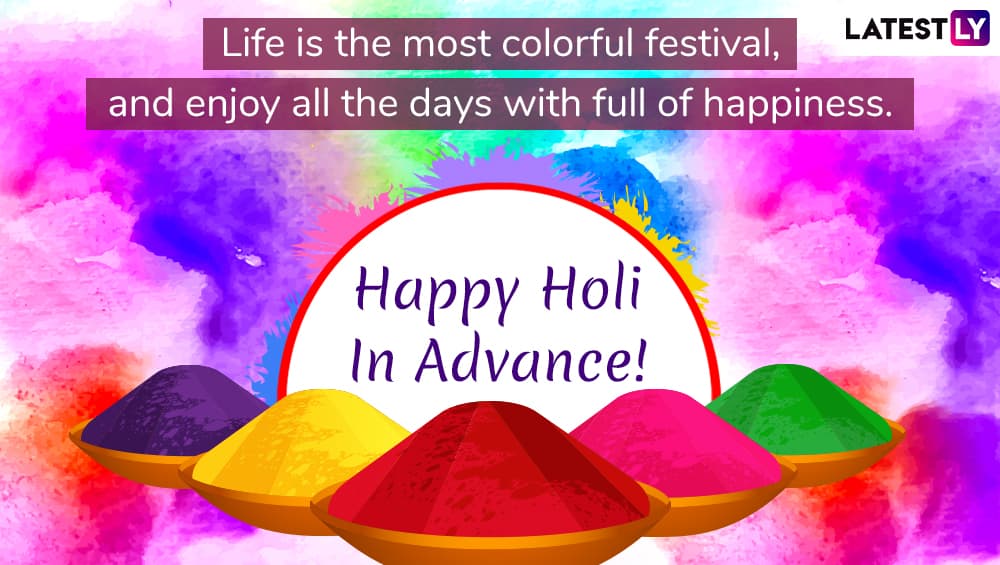 Message Reads: Life is the most colorful festival, and enjoy all the days with full of happiness. Happy Holi in Advance!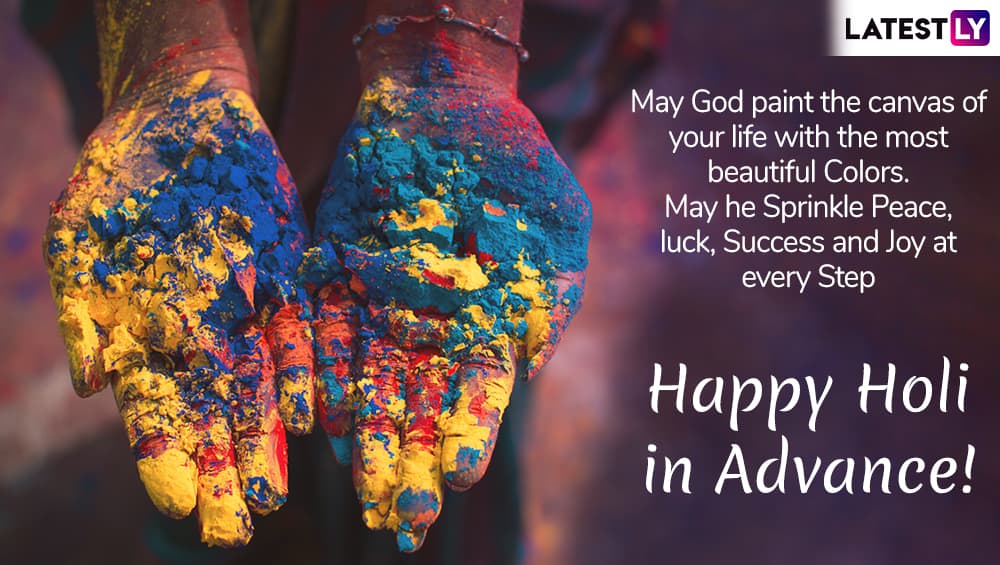 Message Reads: May God paint the canvas of your life with the most beautiful Colors. May he Sprinkle Peace, luck, Success and Joy at every Step. Happy Holi in Advance!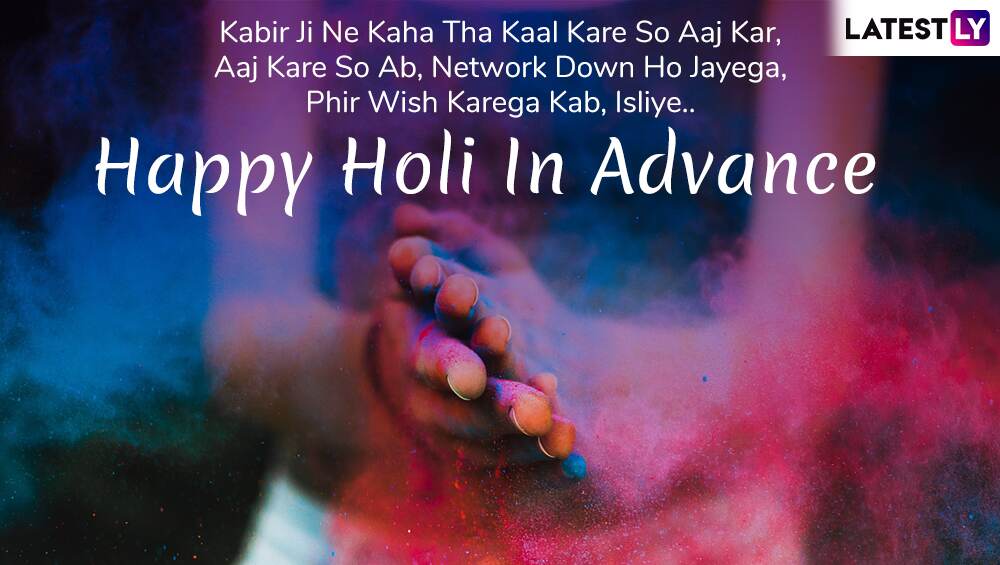 Message Reads: Kabir Ji Ne Kaha Tha Kaal Kare So Aaj Kar, Aaj Kare So Ab, Network Down Ho Jayega, Phir Wish Karega Kab, Isliye.. Happy Holi In Advance.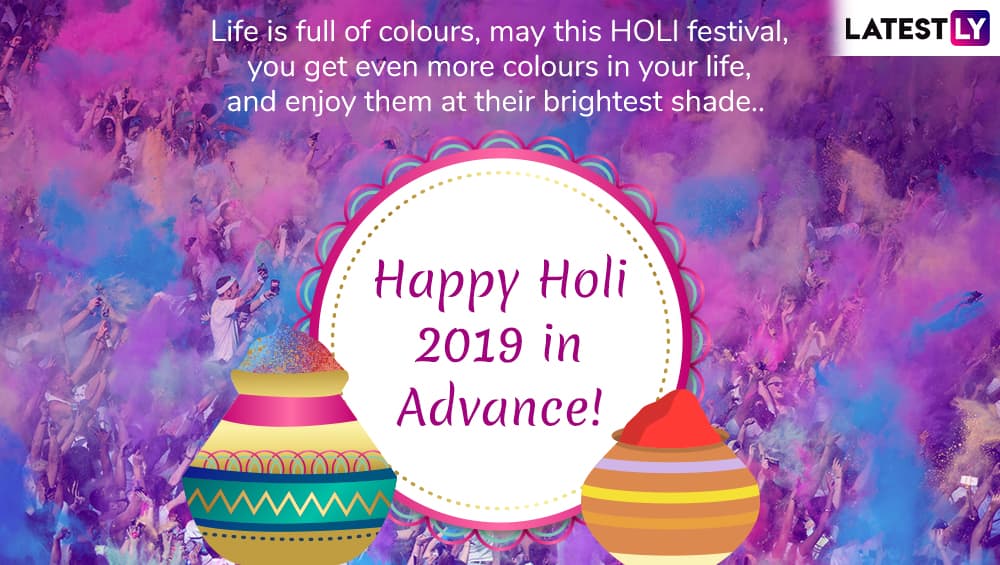 Message Reads: Life is full of colours, may this HOLI festival, you get even more colours in your life, and enjoy them at their brightest shade.. Happy Holi 2019 in Advance!
Happy Holi 2019 WhatsApp Stickers
WhatsApp stickers have made it easy to send any greetings and wishes with just one click. If you do not want to send message images and greetings, you can also convey your wishes through WhatsApp stickers. You can download Holi WhatsApp sticker packs and then send in your greetings through the app.
Happy Holi GIFs
Wish you a colourful Holi
We hope the above list of Holi messages, images and WhatsApp stickers help you to give Happy Holi greetings to your family and friends. Celebrate the festival of colour with fun and fervour but take care you take good care and don't cause any damage or hurt anyone's sentiments. Wishing all of you a very Happy Holi 2019 in advance.