The festival of Navratri and Durga Puja 2018 has come to an end. It is that time when the nation is in full festive mode. The festivity is celebrated with much fervour and enthusiasm. Every corner is brightened up with colourful lights and Maa Durga's versus celebrating the win of good over evil. Vijaya Dashami or Bijoya Dashami is the fifth day of Durga Pujo and tenth day of Navratri. On this day, the devotees bid adieu to Maa Durga in the most unique way possible. As we are in the final verge of the festivity, here is the Vijayadashami 2018 tithi, muhurat update, its significance and how it is celebrated in different parts of the country. Dussehra 2018 Date in India: When Will Vijayadashami Be Celebrated This Year & Shubh Muhurat of Ravan Dahan?
Goddess Durga killed the buffalo demon, Mahishasura which gave her the name Mahishasuramardini. If we go by Hindu mythology, Maa Durga returns to her maternal Menaka and Himalaya—the lord of mountains home every autumn. The devotees celebrate the homecoming, observing Durga Pujo. Maa Durga has a short five-day vacation and on the fifth day, she is set to go back to Kailash. Best WhatsApp Messages & Status, SMS, GIF Images and Facebook Cover Photos to Wish Happy Dussehra!
Vijaya Dashami 2018 Date & Tithi:
The ten-armed goddess Maa Durga defeated Mahishasura in an epic battle that ran for days. Vijaya Dashami will be marked this year on October 19. According to Drik Panchang, Dashami muhurat will be from 02:06 pm to 02:52 pm. The tithi begins from 05:58 pm on October 18 to 08:27 pm on October 19, 2018.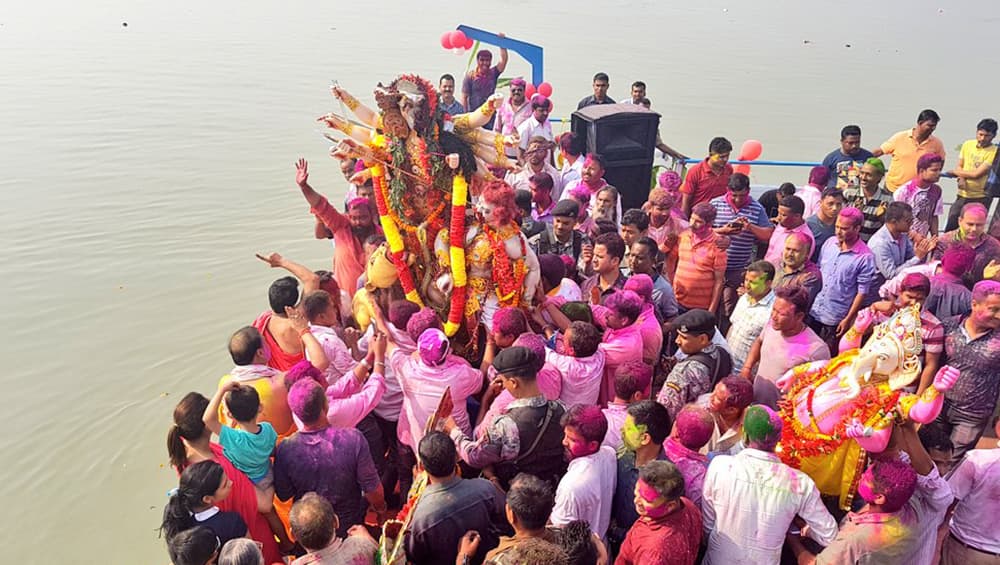 Vijaya Dashami 2018 Significance:
Vijaya Dashami is observed for different reasons and celebrated differently to varying parts in India. The celebration, which is majorly marked by the Bengali community, Vijaya Dashami marks the end of Durga Puja, remembering the victory of Maa Durga over the demon Mahishasura to help restore Dharma. The Hindu Goddess who comes to visit her maternal home, goes back to Kailash on this day.
Vijaya Dashami 2018 Celebrations:
Vijaya Dashami is celebrated majorly in eastern and northeastern states of India, marking the end of Durga Puja. For the devotees, Vijaya Dashami is not a day of joy and merriment, but it is tinged with a subtle sorrow. Durga Puja is observed to celebrate Maa Durga's journey to her parents' home. On the day of Vijaya Dashami, it is time for her to return to Kailash. Individuals bid a teary goodbye to the Goddess with sweets, sindoor and betel leaf as part of offerings. Sindur Khela is the significant highlight of this day. Married women in their traditional attire, smear vermilion on each other after making offerings to Maa Durga. The Hindu Goddess is then taken to nearby water body as per the muhurat for immersion. In the evening, families and friends gather to wish each other Shubho Bijoya (meaning, Happy Victory) and have their final festive meal together.
It is known, that Vijaya Dashami is celebrated differently in different parts of the nation. In the northern and western states, the festival is synonymously called Dussehra, marking the end of Ramlila. Devotees remember God Rama's victory of Ravana. Karnataka celebrates 10-day long celebration of Mysore Dasara commemorating the win of Goddess Chamundeshwari (Maa Durga) killing Demon Mahishasura. Again, on the very same occasion, according to the verses of Mahabharata, Arjuna alone defeated the entire Kaurava army consisting of thousands of soldiers. Yes, the rituals and legends may differ, but the ethos is same, a triumph of good over evil.