Food lovers! What if we told you that you can enjoy soup and mac and cheese simultaneously? Hold yourself together. US-based bakery-café store Panera Bread's latest delicacy is taking the internet by a storm because their carb-loaded Double Bread Bowl is the new viral food trend. The bizarre-looking dish is yet to be launched. The first phase of testing will happen in Philadelphia where it will be served exclusively from August 5 to August 31. Panera Bread's offerings include soups, salads, pasta, sandwiches, specialty drinks, and bakery items.
We are not kidding. Ditching their iconic bread bowl (scooped out bread filled with the customer's choice of entree)  Panera will be serving you an oblong loaf which has not one, but two cutouts. Yes, this means you can enjoy two of your favourites- like a soup and mac and cheese at the same time. And no we aren't kidding, take a look at this pictures yourself.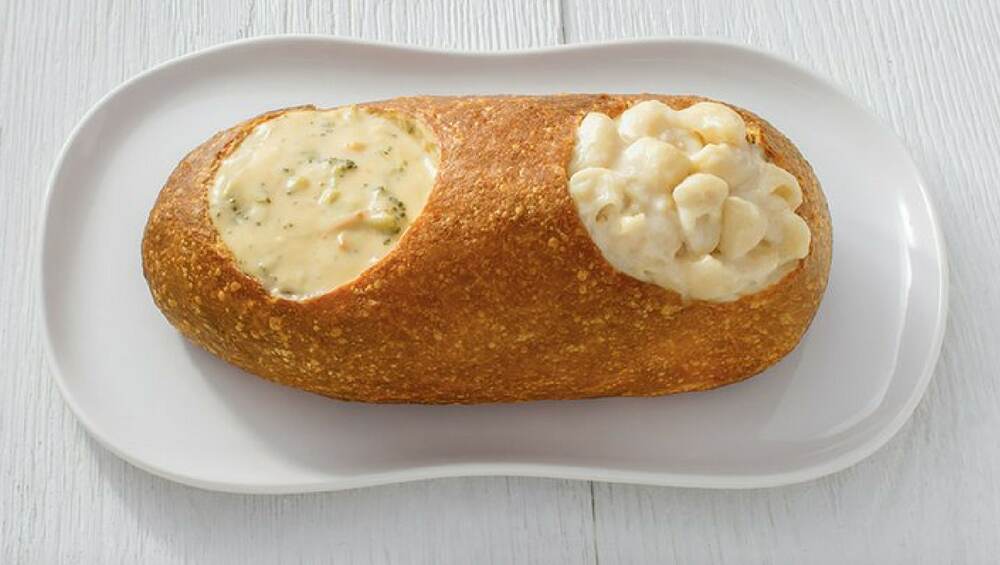 Panera Bread teased all the foodies with absolutely drool-worthy pictures of the double bread bowl. Take a look:
RT if you would eat this #DoubleBreadBowl solo, or tag a friend you'd go halfsies with. pic.twitter.com/QuMHZhp25w

— Panera Bread (@panerabread) July 31, 2018
So, you want the Double Bread Bowl in a Panera near you? Where do you want to see it?

— Panera Bread (@panerabread) July 31, 2018
Needless to say, the internet is already drooling over the double bread bowl, and it is legit.
PANERA'S NEW DOUBLE BREAD BOWL IS THE BEST THING TO HAPPEN TO 2018 YOU CANT COME @ ME FOR THIS IM SO HYPE

— Alex Contianos (@____aalex) July 31, 2018
IM NOT THE ONLY ONE FREAKING OUT OVER THE NEW DOUBLE BREAD BOWL AT PANERA RIGHT?

— alex is proud of darren❤️ (@stxrry_klaine) July 31, 2018
a double bread bowl is exactly the kind of innovation i expect out of 2018, thank you Panera pic.twitter.com/1eApZfU88F

— Hannah F Caldwell (@MsHannahFrazier) July 30, 2018
I didn't think I'd need anything more in my life, but Panera with the double bread bowl is exactly I need. 😍 pic.twitter.com/q54xArJEQu

— John Fannin (@johnbfannin) July 31, 2018
Food options like baked potato soup, chicken tortellini alfredo and their new Baja mac and cheese, which is topped with pico de gallo, avocado and cilantro can be ordered in the double bread bowl. The bakery-cafe has about 1900 outlets in 46 states in USA and 20 facilities that deliver fresh dough to the bakery-cafés every day.
Not long back, the internet was divided over mayo flavoured ice cream. Though this time most people look in favour of the double bread box and eagerly eating to finally have it on their plates.
Would you like to try the double bread bowl?