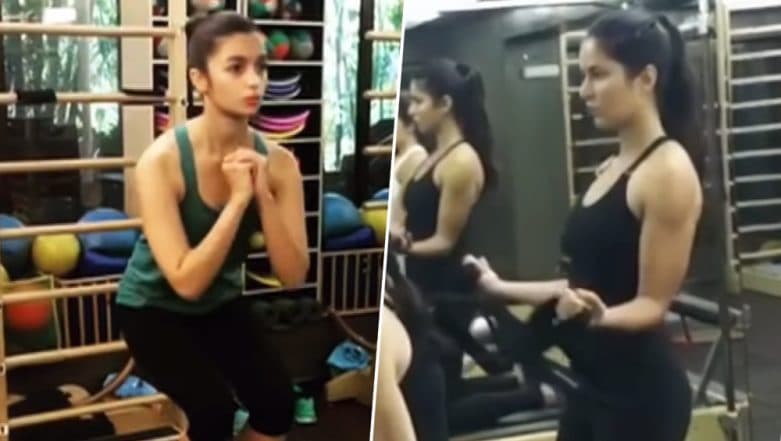 Are you bored with monotonous gym workout? If yes, you should try some other form of exercise to keep yourself. One such workout is Pilates, the benefits of which have helped famous actresses like Alia Bhatt and Katrina Kaif maintain a well-toned body. The Kalank and Bharat actresses can be seen posting their Pilates workout video on social media. If you are a beginner to pilates,  here's everything you need to know about the fitness system. How to Lose Weight Tip #1: Ectomorph, Mesomorph or Endomorph? Identify Your Body Type Before You Start Weight Loss Diet and Workout.
What is Pilates?
Pilates was first introduced in the year 1920 by American physical trainer Joseph Pilates. He first used this form of exercise on injured athletes and dancers to help them return to exercise and maintain their fitness. Callisthenics, yoga and ballet inspire the pilates method. Pilates exercises bring all major muscles of the body in a balanced form. This form of training helps in the development of flexibility, strength, balance and body awareness.
The best part of pilates is that you don't have to sweat it out until you are exhausted. All that you need is concentration. Yoga mat and pilates equipment are used for exercise. In Pilates, the training program is designed according to the person's requirement.
Pilates workout is suitable for everyone, be it a beginner or an expert, anyone can perform this type of workout. A typical pilates training includes some exercises and stretches. The focus should be on breathing and abdominal muscle control. You can observe improvement in your posture after 10-20 sessions.
Watch famous Bollywood actress Alia Bhatt doing Pilates exercise
Watch Bharat movie actress Katrina Kaif doing Pilates
Benefits of Pilates workout
1. Pilates helps in improving your posture and flexibility.
2. Pilates strengthens and tones up muscles, especially the abdominal muscles.
3. This workout can be used in order to recover from an injury and get back to routine exercise.
4. Pilates enhances the muscular balance of the body.
5. It is a good stress buster and a sort of relaxation session for your body.
6. Since Pilates involves concentration on breathing, it increases lung capacity and circulation.
Although Pilates is not an intense form of exercise, it can still cause injuries. This exercise compulsorily should be performed under the observation of a trained Pilates trainer. Pregnant woman, obese men and women and people over the age of 40 should stay away from Pilates workout.