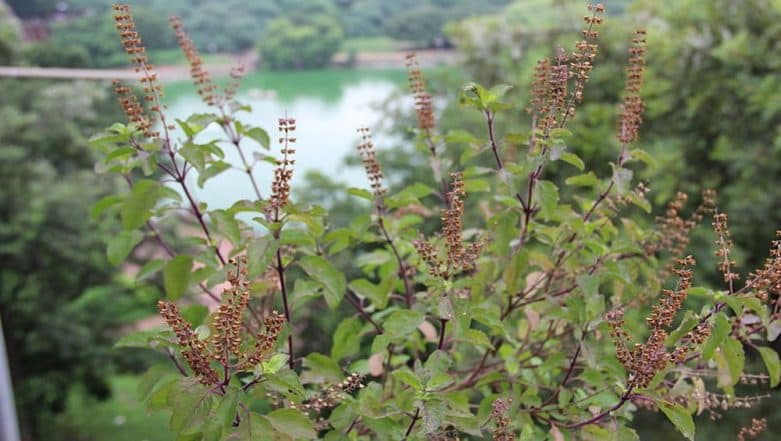 Tulsi Vivah for the year will be celebrated on the 20th of November after the Prabodhini Ekadashi, the eleventh lunar day of the fortnight of the Hindu month of Kartik. The celebration of Tulsi Vivah includes a ceremonial marriage of the Tulsi plant to the Hindu god Vishnu. Tulsi Vivah holds a lot of significance as it marks the end of monsoon and the religiously official beginning of the wedding season among Hindus. While Tulsi Vivah aka the wedding of the Tulsi (Basil) plant holds a lot of religious importance, the plant Tulsi itself is known to be a boon to humankind even beyond spiritual belief. Tulsi Vivah 2018 Date & Shubh Muhurat: Auspicious Puja Time & Significance of Dev Uthani Ekadashi & Gyaras.
Tulsi is a herb that has been common in the Indian household since the beginning of time. Apart from worshipping the Holy Basil plant as Tulsi Maa (Goddess Tulsi), Ayurveda has recognised Tulsi's importance equal to gold and has been hailed as a healer plant. Loaded with tonnes of health benefits, Tulsi is one of the best natural remedies with no side-effects. It has been used in India used as medicine, and its therapeutic power holy basil leaves are now used all across the world, even as supplements. They are now also widely used as adaptogens aka anti-stress agents and very popular known to combat various health issues like hypothyroidism, anxiety, balance blood sugar and also control acne.
A study called 'Tulsi - Ocimum sanctum: A herb for all reasons' explains how Tulsi is known as "The Incomparable One," "Mother Medicine of Nature" and "The Queen of Herbs," and is revered as an "elixir of life" that is without equal for both its medicinal and spiritual properties. The study further describes the benefits of Tulsi by saying, 'Daily consumption of Tulsi is said to prevent disease, promote general health, wellbeing and longevity and assist in dealing with the stresses of daily life. Tulsi is also credited with giving lustre to the complexion, sweetness to the voice and fostering beauty, intelligence, stamina and calm emotional disposition.' Tulsi, Aloe Vera and Other Best Plants with Health Benefits to Grow at Home.
Let's take a look at some of the proven health and skin benefits of Tulsi
Helps Combat Acne- Holy basil or Tulsi is often considered as food for the skin! The antibacterial and anti-inflammatory properties make it a perfect natural remedy for acne. If you are also suffering from skin infections, holy basil can help treat them inside out. Rich in the active compound, eugenol, the sacred basil oil can help improve the health of your skin.
Helps Prevent Diabetes- Tulsi is also known to decrease the level of blood sugar and is known to be a fantastic herb for people with diabetes. Various studies have seen the positive effect of holy basil especially on patients with noninsulin-dependent diabetes.
Balances Hormones-Some tulsi tea can help you balance your hormones, especially for women who suffer from hormonal imbalances. Usually, the symptoms of hormonal imbalance are weight gain, Menstrual problems, reduced libido, fatigue, mood changes, etc.
Improves Mental Health and Lowers Stress- Holy basil's health benefits aren't just physical; Tulsi is also known to have a lot of psychological health benefits as well. It helps calm your system, decreases anxiety and soothes your mind. It is an amazing natural anti-depressant and has a positive effect on your memory. Health Benefits of Tulsi: Ways it Can Boost Your Mental and Physical Health.
Improves Eye Health- Rich in Anti-inflammatory and anti-bacterial properties, Tulsi helps to prevent infection in the eyes. Since our eyes are more prone to bacterial, viral and fungal infection, Tulsi is a great way to prevent any such infections. Especially, preventing conjunctivitis, also commonly known as pink eye.
Fights Fever-A great natural fever treatment, Holy basil are natural antibiotics that can help relieve fever. It is a natural germicidal, disinfecting agents that can help our body fight against infection.
Help Keep Respiratory Disorders at Bay-Rich in compounds like eugenol, camphene, and cineole, Tulsi can help provide relief from congestion and other respiratory issues. Tulsi Leaves have anti-asthmatic compounds that can help ease breathing.
Rich in Vitamin K -Vitamin that has multiple health benefits and Tulsi leaves are rich in it. This fat-soluble vitamin also improves bone and heart health and also helps bone mineralisation. The countless benefits of vitamin K also include improved brain function, great cellular health and fantastic metabolism.
Oral and Dental Health - Tulsi can control any kind of oral or dental issues like cavities, bad breath, tartar, plaque etc. as it can kill the germs present in your mouth that pave the way for such health issues. Tulsi can also combat mouth ulcers.
Curb Headaches-Ditch those OTC painkillers and opt for the natural alternative- Tulsi! Tulsi can help relieve migraine pain or any other kind of aches. So next time you have a headache, try a hot cup of tulsi tea and see its magic.
Cold and Flu- Tulsi has been used to control cold and flu since ages in India and it has worked like magic. Tulsi acts as a natural decongestant and provides necessary warmth to the body while boosting the immune system.
Detoxification- Having tulsi helps clean your system and detoxify your body naturally. Rich in various vitamins and compounds, Tulsi acts as a detoxification agent for our body.
One of best ways to consume Tulsi or Holy Basil is in form of tea. A cup of tea is enough to fulfil the daily requirement of vitamin K and it is an easy way to include Tulsi in your diet.