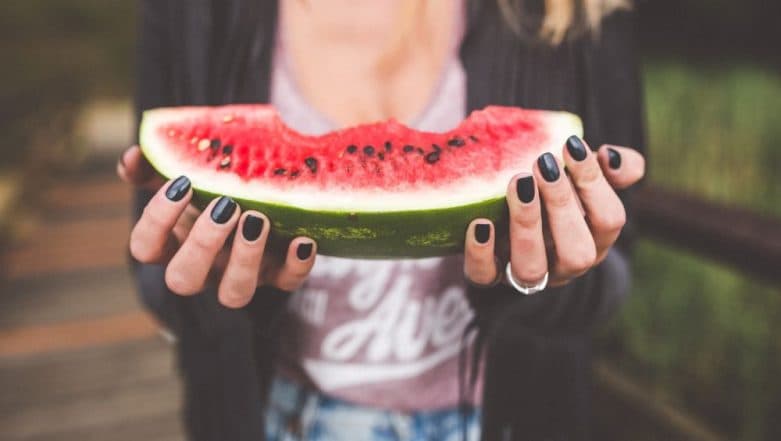 It is summer and we indeed are fed up of the scorching heat.  But just because it's summer it doesn't mean that we compromise on our weight loss goals. One way to ensure you lose weight this summer is through diet and specifically through this delicious summer fruit. This delicious fruit will not only keep you hydrated this summer but will also help you in reducing your weight. Watermelon Beauty Benefits: From Acne to Dryness, How the Summer Fruit Can Give You a Healthy Skin (Watch Video)
The watermelon is a flowering plant which is said to have originated in West Africa. China is by far the largest producer of watermelon followed by Turkey and Iran. Watermelon consists of more than 90 percent water and contains essential nutrients like vitamin C, beta-carotene, vitamins B1 and B6, lycopene, potassium and magnesium. Watermelon Works Like Natural Viagra: Here's What Makes This Summer Fruit Great Cure for Erectile Dysfunction and Improve Sexual Life.
Watermelon not only helps in weight loss but also has various other health benefits. This melon contains an antioxidant known as lycopene, which helps protect against heart diseases, cancer and other diseases. It is also enriched with citrulline amino acid, which helps in proper blood flow.
How Watermelon Can Help in Weight Loss
The most important aspect of weight loss is to go calorie deficit. One finds it difficult to reduce to their total calorie intake and simultaneously also keep themselves full. Watermelon is the best solution for this problem as it contains very few calories but at the same time, it reduces your cravings.
According to United States Department of Agriculture (USDA), 100 gm of Watermelon contains 42 calories with zero percent saturated fat. Each slice of watermelon comes along with 5 per cent of the daily recommended intake of fibre. One can also find 5 days watermelon diet plan to lose weight, this particular plan also comes with 10 days plan.
Lose Weight with the 10 Day Watermelon Diet
Watermelon also helps in preventing muscle soreness, therefore it is also good for banishing muscle pain after an intense workout. Losing weight also means doing physical activity like cardio-vascular exercise and weight training. According to a study published in the Journal of Agricultural Food and Chemistry, watermelon helps in soothing soreness. A research was done in this study where athletes were served with 16 ounces of watermelon juice just an hour before exercise, this result was that athletes felt less muscle soreness the next day.
It is highly recommended to consult a doctor or dietician before opting for watermelon weight loss diet plan. As every individual has a different body type and what suits one may not be ideal for the other person. Also, a healthy diet means proper intake of all essential macronutrients-carbs, protein and fat in the ratio of 2:1:1. Watermelon is not recommended for pregnant women and people suffering from liver problems.