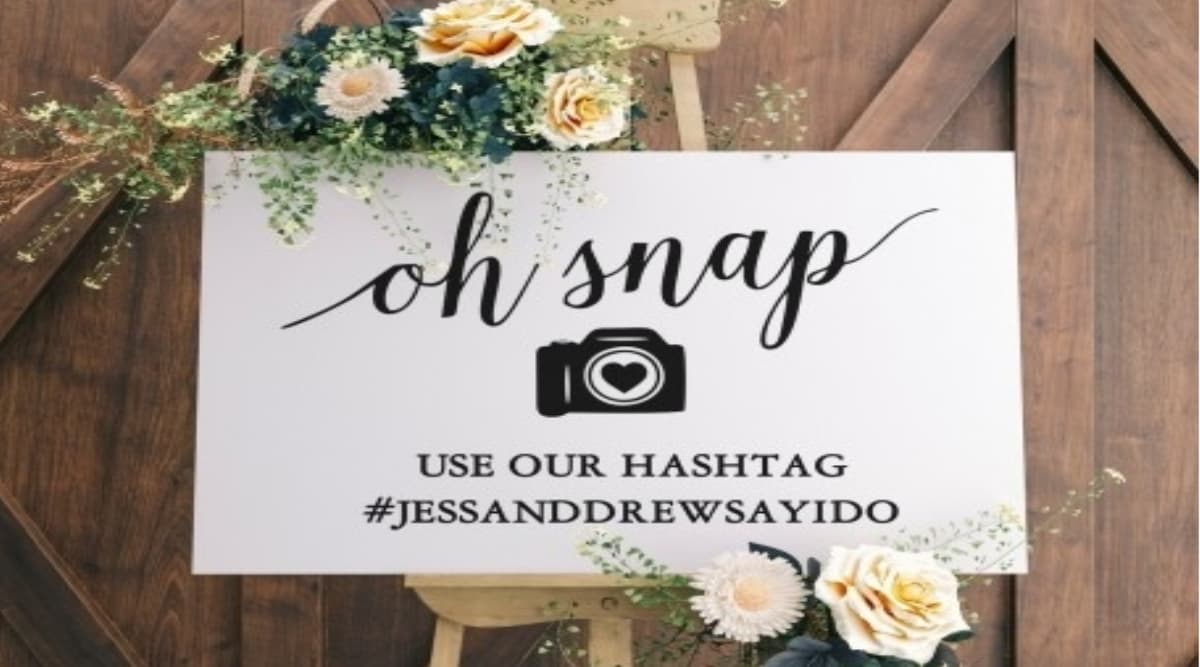 There are some couples who like to keep their wedding low key, and there are some who like to go all out with photo snapping and sharing. If you fall in the second category, you are already brainstorming your wedding hashtag ideas. You would want to come up with one unique hashtag that your guests will use on social media to round up your wedding day. And while your wedding photographer cannot capture every moment of the special day, your guests can surely fill in the gaps. If you are stuck, we got you tips to come up with a creative and unique hashtag.
Step 1: Start With Your Names
It might sound obvious, but start with the basics. Use your first, last and pet names as the starting point of your wedding hashtag. If you really can't think of anything quirky, just think of that cute mash-up name that your friends gave you in college. If it's stuck in your head for some reason, this might actually be the time that you may want to use it. Using that name will also make it easier for your friends to remember your hashtag.
Step 2: Use Numbers to Make Your Hashtag Stand Out
If you can't think of anything that stands out, simply use your wedding date. There might be a lot of #AdityagetsNeha in the world but you will be the only one with #AdityagetsNeha251119. Bridal Skin Care: 5 Ways to Flaunt Naturally Glowing Skin on Your Wedding Day!
Step 3: Use Puns
When it comes to word play, this is the one part of your wedding you can really have fun with. For a wedding hashtag, you should look for rhymes, synonyms, alliterations and puns that's both catchy and clever. If you and your partner really cannot brainstorm, get a witty friend to help you with hashtag ideas.
Step 4: Capitalise For Letter of Each Word
Capitalising each word can improve the readability of your hashtag with your guests being able to see where each word starts and ends. Doing this will ensure that everyone gets your joke or your pun. Bridal Anxiety Draining Your Energy? 5 Ways to Tackle The Situation And Rock Your Wedding!
Step 5: Check the Hashtag for Uniqueness
But before you print those save-the-dates, make sure that you do a quick check on social media to ensure that no one has used the same hashtag before. If you find only a handful of photos and a wedding that is not related, you can go ahead with it. But if there is an entire wedding with the same hashtag, you may just want look for other rhymes or puns to keep your photos exclusive. Travel Tip of the Week: Basic Etiquette to Follow While Attending a Destination Wedding. 
Step 6: Don't Overthink It
Yes, you will get to see every photo your guests upload on Instagram but there is no reason to really overthink your hashtag. If you find any other delicacy or a random picture, just roll with it. At the end of the day it is the pictures and the memories that you would really care about having.
Once you have zeroed in your wedding hashtag, start spreading the word. Start early by putting it on your social media. You can also create a cute sign that matches your decor and use it generously in your wedding including your wedding card and menu.