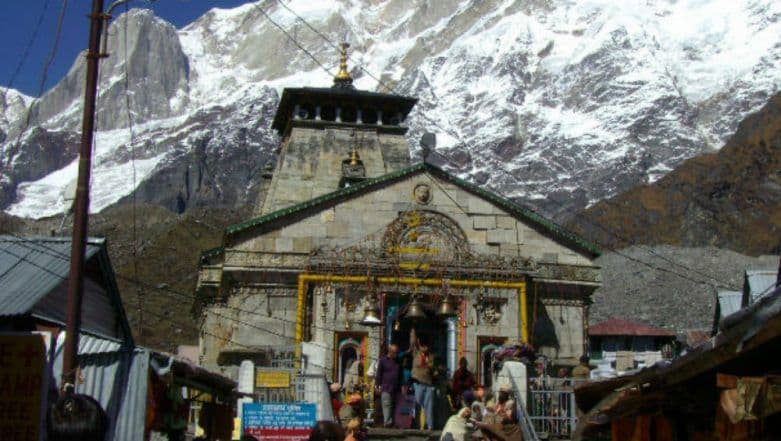 New Delhi, April 29: The portals of Kedarnath were thrown open to devotees ceremoniously amid the chanting of Vedic hymns on Sunday. This year, the pilgrims will witness several new highlights at the holy pilgrimage destination including daily laser show on Lord Shiva. Uttarakhand Chief Minister Trivendra Singh Rawat extended a warm welcome to devotees visiting the famous shrine in Garhwal Himalayas.
At Kedarpuri, 'The Eternal Shiva' laser show will be the centre of attraction for devotees. The show is aimed to depict the various life-like forms of Lord Shiva. Rawat said this year's yatra would have several new features, including a daily laser show on Lord Shiva, to make the visitors' experience even more cherishable.
#WATCH: Portals of #Kedarnath shrine opened for devotees. (earlier visuals) #Uttarakhand pic.twitter.com/1pKnNSm5Jg

— ANI (@ANI) April 29, 2018
The Chief Minister assured that all arrangements like electricity, water, health and safety have been ensured on the trek route from Gaurikund to Kedarnath. He said that enough boarding arrangements have also been made for the pilgrims. He thanked authorities to the well-planned restoration work carried out at Kedarnath, its attractive and grand structure would be visible to all.
He said the road from the helipad to the temple has also been widened substantially. The temple was opened in the presence of a number of dignitaries on Sunday at 0615 hours with vedic hymns reverberating all over. Reports inform that all necessary arrangements have been made by the state government to facilitate a smooth yatra for the pilgrims, Rawat said on Saturday.
In the last year, Prime Minister Narendra Modi was present for the opening. Trivendra Singh, on Saturday, had extended a welcome to devotees from all over to the shrine in Garhwal Himalayas. Gangotri and Yamunotri shrines have already been reopened while the gates of Badrinath will be reopened on Monday.