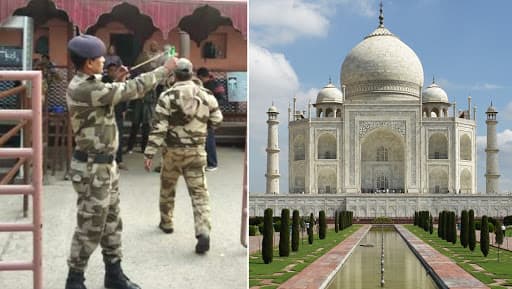 Agra, January 25: With monkey menace creating hurdles for the security personnel to guard the tourists and the 17th-century monument, the Central Industrial Security Force will arm its personnel with 'gulels' (slingshots or catapults).
According to reports, published by TOI, several jawans of the CISF have already been equipped with slingshots at east and west gates of Taj Mahal to ensure security to the visitors. Citing innumerable incidents of tourists being attacked by simians at the seventh wonder of the world, the authorities have taken the decision. Flying Over Taj Mahal or Statue of Unity? Domestic Flights in India Will Now Make Announcements While Flying on Important Landmarks. 
Previously on June 8, 2018, an Australian tourist was attacked by the monkey at the renowned tourist site, and similarly, two French visitors were bitten by the simians on May 2, same year.
Briefing about the development, CISF commandant Brij Bhushan said, as TOI reports, "When we don't allow tourists to enter the area with food items, they usually throw them in the dustbins at the security checkpoint instead of putting it in lockers, which are available at the monument. Hence, the rise in cases of monkey attacks. So we have now come up with the slingshot, but it will be used mostly to scare away the simians."
The official added that the step had been taken as Wildlife Act provisions don't allow the monkeys to be rounded up or attacked without adequate safeguards and precautions.