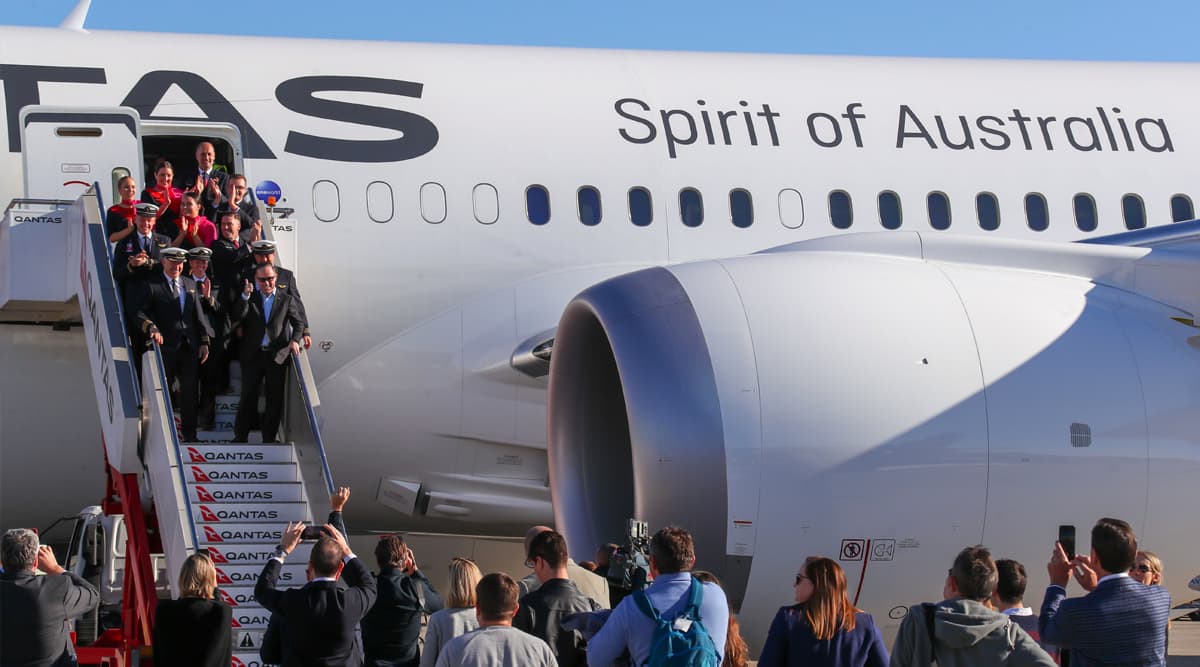 Sydney, October 20: Qantas, the Australian carrier on Sunday scripted history after the Dreamliner successfully completed the test-run of a 19-hour non-stop passenger flight connecting New York and Sydney. According to reports, this longest non-stop flight was a part of research on how the long journey could affect pilots, crew and passengers. In its official statement, the airline said, "Qantas Flight 7879, with 49 passengers and crew on board, will depart New York's John F Kennedy Airport at 9 pm New York as the first commercial airline to fly non-stop between New York and Sydney". 
After arriving in Sydney, Qantas Group CEO Alan Joyce said, "This is a really significant first for aviation. Hopefully, it's a preview of a regular service that will speed up how people travel from one side of the globe to the other. The plane landed after record New York-to-Sydney flight carrying 49 passengers and crew, making it the world's longest commercial airplane journey. According to an official release by Qantas, two more research flights are planned as part of the Project Sunrise evaluations – London to Sydney in November and another New York to Sydney in December. Emissions from all research flights will be fully offset.
Here's the tweet:
Our very first #QantasResearchFlight has arrived at Sydney Airport with a total flight time of 19 hours and 16 minutes. pic.twitter.com/9aOOV3Nz2s

— Qantas (@Qantas) October 19, 2019
According to an official release by Qantas, the first non-stop commercial airline flight from New York to Sydney has landed after 19 hours 16 minutes in the air.  A total of 49 passengers and crew were on the flight, which was used to run a series of experiments to assess health and well-being onboard. "Data from these experiments will be used help shape the crew rostering and customer service of Qantas' ultra long haul flights in future – including Project Sunrise", the statement read.
Giving details about the longest ever flight, the report states that the Qantas flight  departed New York on Friday evening loaded with 222,900 pounds (101,000 kilograms) of fuel to make the journey. There were only 50 passengers and crew and no cargo. Reports inform that the airliner was brand new, having just come off Boeing's assembly line near Seattle.
According to an official release by Qantas, the flight was operated by a brand new Boeing 787-9, registration VH ZNI, named "Kookaburra". The test-run was a part of Project Sunrise, Qantas' effort to push the limits of commercial flying.
Qantas said that the 787-9 aircraft has been positioned to New York after being delivered from the Boeing factory in Seattle. After the research flight is complete, it will enter normal commercial service with Qantas. The airline was quoted in reports saying that if Qantas decides to proceed with new flights and wins the necessary regulatory approval, it hopes to start flying to New York and London by 2023.