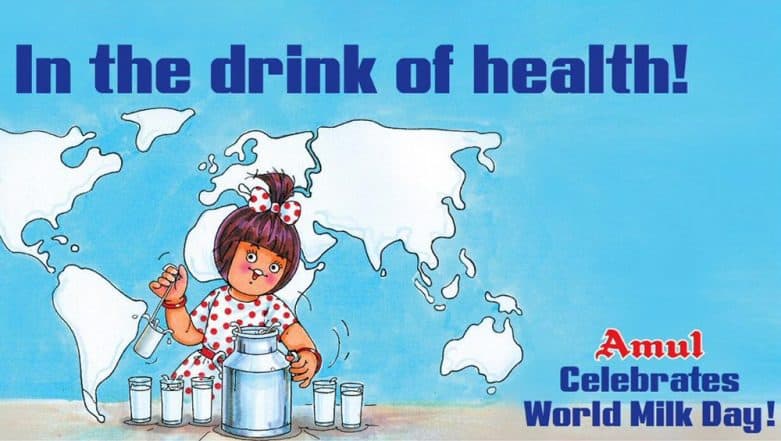 It is World Milk Day. Every year on June 1 the world celebrates the presence of "the complete food", MILK. The day also acknowledges the dairy sector's efforts at providing milk worldwide and how it supports the livelihoods of a billion people worldwide. World Milk Day began to be celebrated back in 2001 when the Food and Agriculture Organization of the United Nations observed the day to recognise the importance of milk as a global food. Since then, the day has been observed on June 1 each year to celebrate the "important contributions of the dairy sector to sustainability, economic development, livelihoods and nutrition." Milk is known to have immense health benefits and right from helping you grow and make your bones stronger. When you think of Milk in India, the first name that comes to your mind is "Amul Doodh"! Right from humming its jingle, "Amul doodh peeta hai India" as a kid to checking out their hilariously relatable tweets online, Amul milk has been an important part of our lives. Dr Verghese Kurien, Father Of The White Revolution and the man behind Amul has always made sure that their fresh milk reaches to every household in the country. On world milk day, Amul tweeted out a happy wish saying, "#Amul Topical: Happy #WorldMilkDay".  World Milk Day 2019: 6 Healthy and Delicious Ingredients You Can Add to Your Milk and #EnjoyDairy.
#Amul Topical: Happy #WorldMilkDay pic.twitter.com/XTLNbfpVlt

— Amul.coop (@Amul_Coop) June 1, 2019
Here are some of the reactions:
Thanks Dr. Kurien "The Milkman".. Thanks the millions of milk farmers..Thanks cooperative movement.. Thanks Amul.. Thanks GCMMF.. Thanks my Alma Mater IRMA.. #WorldMilkDay #Amul

— bij semwal (@bizjsem) June 1, 2019
Thank you for the white revolution
#WorldMilkDay #worldmilkday2019 Thanks Amul for being a part of our daily life. Lots of way to go with generations.

— @coach sangeeta (@SuperSangeeta) June 1, 2019
Same
I am a fan of Amul & Amul's little angel (the one and only ONE) pic.twitter.com/UhcwNKugKb

— Narendra Kumar Singh (@Narendr68083309) June 1, 2019
This
#worldmilkday, @Amul_Coop @Rssamul Celebrates world Milk day !!

— Prrasana Shah (@prrasanashah) June 1, 2019
Milk is known to be great for your health and with all the dairy-free diets that are coming in, milk is seeming to lose its importance. However, everyday glass of healthy milk provides you with complete nutrition.