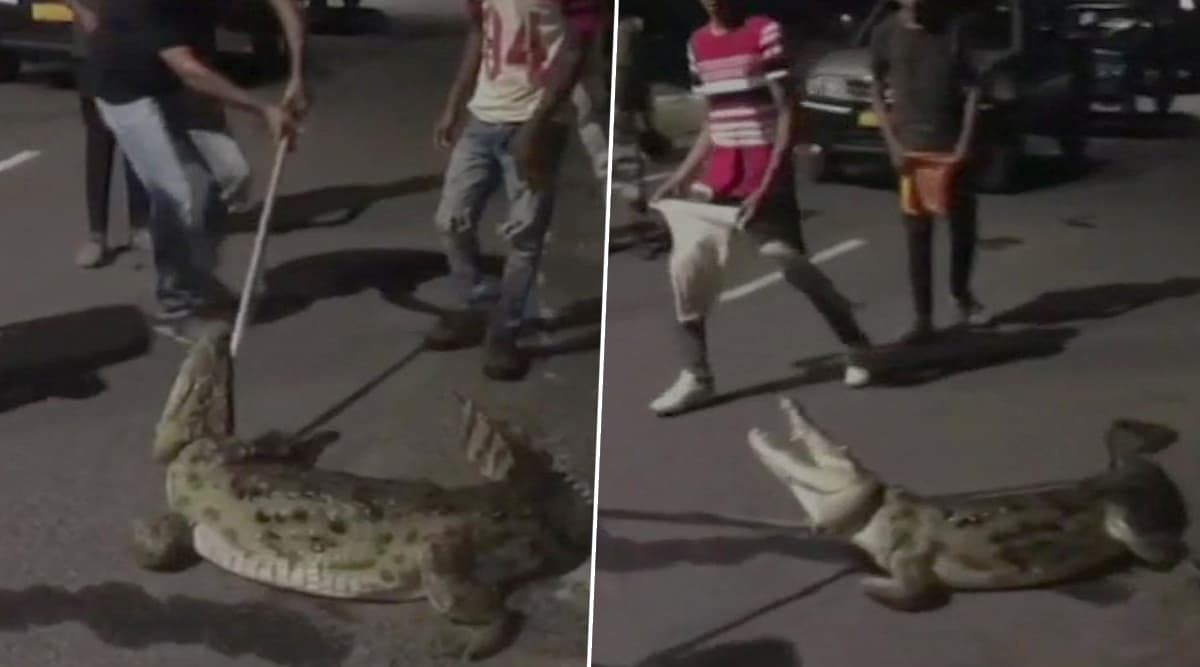 A 6.5-foot long crocodile was rescued from a drainage line in Air Force Colony of Darjipura, Vadodara on Tuesday night. Video of the rescue shows forest officials trying to bring the reptile under control. The clip shows them tying up the crocodile's mouth with a cloth and then holding it tightly. Gujarat has been witnessing incessant rains in the past few days, which could have caused the water animals to surface again. Earlier too, Gujarat has seen deadly crocodiles roaming on the streets the following pour down. Crocodile in Chiplun! 4-Foot Reptile Strays Into Ratnagiri After Vashishti River Flows to Danger Level; Watch Video.
The reptile was later handed over to the forest department. Meanwhile, the India Meteorological Department (IMD) has predicted extremely heavy rainfall in the coastal areas of Gujarat including Junagarh, Gir Somnath, Amreli, Bhavnagar, Surat, Bharuch, Porbandar and Rajkot. Cyclone Maha is expected to cause heavy damage in Gujarat this week. Crocodile in Vadodara! Six-Feet Long Reptile Rescued from Narmada Canal, Forest Officials Take Croc on Bike (Watch Video).
Watch 6-Foot-Long Crocodile Being Rescued From a Drainage in Gujarat:
In another incident, a Gujarat man spotted a crocodile in his bathroom last week. Mahinder Padhiyar, who lives in Vadodara was shocked to see the big reptile in the corner of his bathroom. Wildlife Rescue Trust, a Vadodara based animal welfare organisation, captured the four-and-a-half-foot-long crocodile. The reptile is believed to have entered the house as it is situated near Vishwamitri River. Residents of the area are used to seeing crocodiles in the neighbourhood.