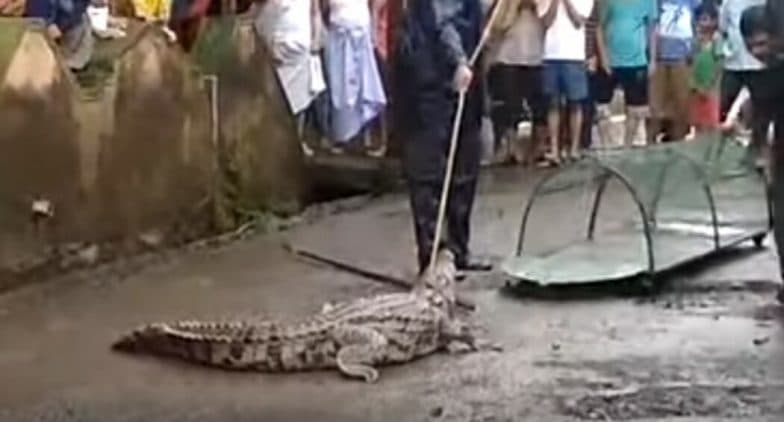 Chiplun, July 28: As Vashishti River crossed danger levels in Maharashtra due to heavy rainfall, the floods brought up an unwanted guest in Ratnagiri district. Around 4-foot long crocodile was rescued from a drain near Dadar Mohalla in Chiplun city. Spotting the reptile, the forest department officials were informed. The forest officials rushed to the spot and rescued the Magar and released it safely to the river again. Mumbai Rains Bring Along 9-Feet Long Python in Thane! Snake Rescued From Sewer Amid Heavy Downpour (Watch Viral Video).
In a clip shared by Saamana Online, Forest officials can be seen capturing the reptile. According to reports, it was challenging to control the crocodile due to the crowded surrounding. The croc was later released to the natural habitat. Crocodile in Vadodara! Six-Feet Long Reptile Rescued from Narmada Canal, Forest Officials Take Croc on Bike (Watch Video).
Watch Video:
Meanwhile, Ratnagiri, Sindhudurg and Mumbai have been witnessing heavy downpour from last two days. The flood alert has been issued to some parts of Maharashtra due to incessant rains. The IMD has also issued "be prepared" warning for the Konkan region.
Spotting crocodiles and snakes are normal during the monsoon. During floods and heavy rainfall, these animals pop-up at most extraordinary places like parks, train tracks, and roads. Earlier, a huge python was rescued from Thane district.