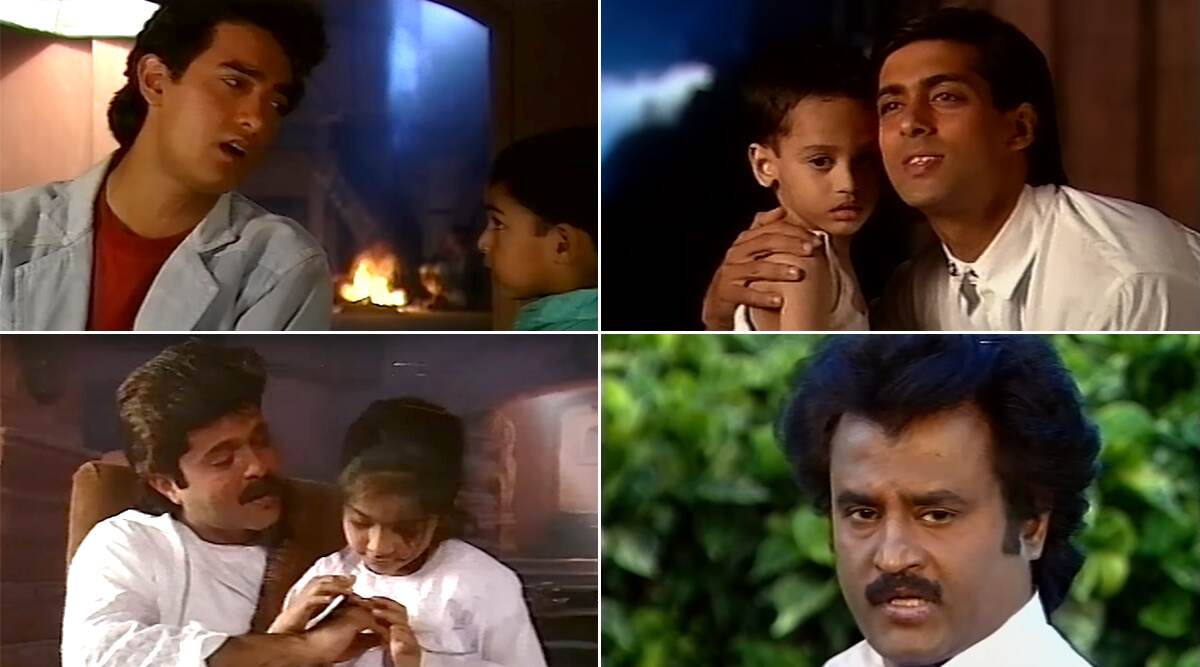 By the time year 1991, India has seen some tragic riots - including the 1984 anti-Sikh riots, 1985 Gujarat riots, 1989 Kashmir Violence and the beginning of the Babri Masjid demolition riots. As the social fabric of the country was torn from within, some very popular male stars in Indian cinema then came together for a song on solidarity, love and unity. The song was "Pyaar Ki Ganga Bahe", and the video was directed by Subhas Ghai, with Laxmikant-Pyarelal composing the track. Mohammed Aziz, Udit Narayan, Manhar Udhas and Jolly Mukherjee have crooned the track. This Old Song Features Salman Khan, Aamir Khan, Anil Kapoor, Rajinikanth Along With Little Ranbir Kapoor, Sonam and Tiger Shroff! - Watch Video.
The actors who appeared in the song are (in the order of appearance) - Jackie Shroff, Anil Kapoor, Aamir Khan, Govinda, Salman Khan, Rishi Kapoor, Naseeruddin Shah, Chiranjeevi, Rajinikanth, Prosenjit, Mammootty, Sachin Pilgaonkar, Rasik Dave. Also featured in the video are a young Tiger Shroff, Sonam Kapoor and Ranbir Kapoor, along with their fathers.
Watch the video below:
So why are we talking about this song now? India is going through a turbulent phase right now, what with students of major universities and many citizens are on the street, protesting against the CAA (Citizenship Amendment Act) and NRC (National Register of Citizens). The proposed bills are accused of using religious discrimination to assign citizenship to immigrants from countries like Pakistan, Afghanistan and Bangladesh. Kangana Ranaut Gets Slammed by Delhi's Deputy Chief Minister Manish Sisodia For Her Statement on Anti-CAA Protests.
This is the reason why the song is going viral right now, especially the lyrics that ask for the Ganges of love to flow through us and equality be maintained in the country.
WOW! Beautiful❤❤🇮🇳🇮🇳 pic.twitter.com/6ybe4NusML

— N J (@Nilzrav) December 23, 2019
Sun Sun Sun Mere Munne Sun..

Pyar Ki Ganga Bahe, Desh Me Ekta Rahe..

Khatm Kali Rat Ho, Roshni Ki Bat Ho..

Dosti Ki Bat Ho, Jindagi Ki Bat Ho..

Bat Ho Insan Ki, Bat Hindustan Ki..

Ab Naa Dushmani Pale, Ab Naa Koyi Ghar Jale..

Ab Naa Ho Bachhe Anath..pic.twitter.com/kUMD0NhHjH

— Mohammed Zubair (@zoo_bear) December 24, 2019
The irony about this song is that most of the actors in the video, like Salman, Aamir, Mammootty et al, are accused of not taking a stand in the CAA debate, while Rajinikanth has been slammed for taking a very safe stand.