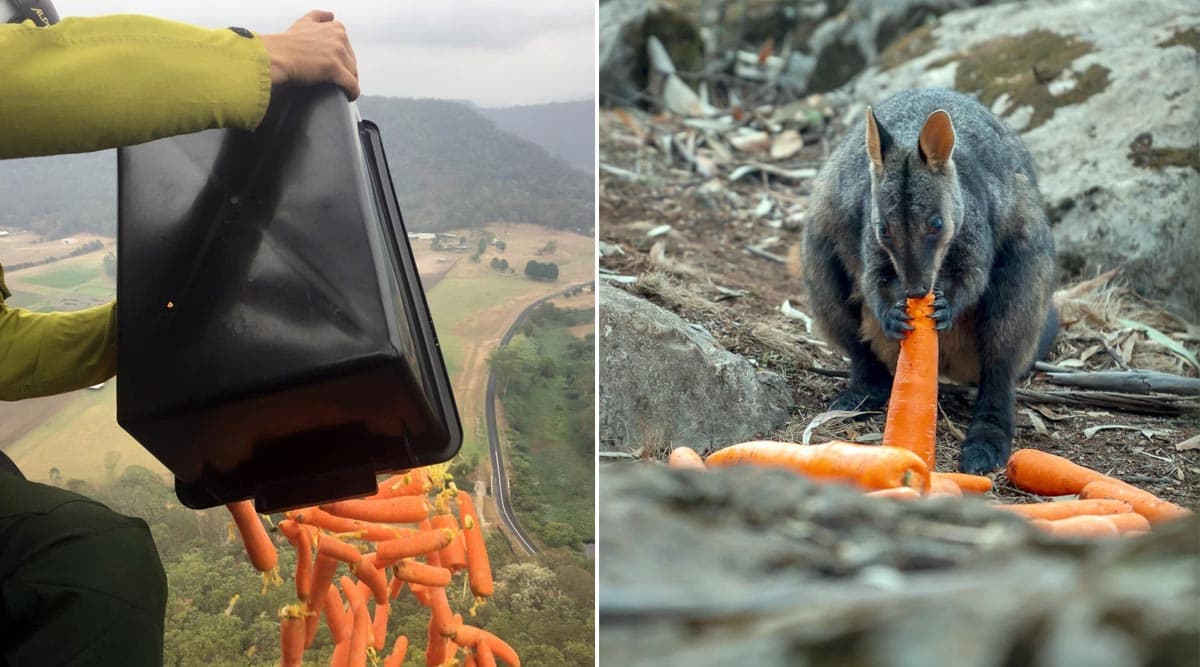 It is getting only worse for Australians. Every day, we are coming across images and videos of devastations that the ongoing raged bushfire is creating. The situation is extremely dire in the country. Citizens have even come down to the streets protesting against the government, demanding immediate climate change action. Amidst all these, comes another video that is both disheartening and satisfying at the same time. In response to the fires, the New South Wales Minister for Energy and Environment initiated the "Operation Rock Wallaby." The authorities airdropped thousands of kilograms of sweet potatoes and carrots for animals stranded in wildfires. The pictures and videos of the mission show the happy receivers in the wild, snacking on the veggies. Viral Koala Challenge Resurfaces on the Internet, This Time to Raise Money for Wildfire Victims. 
The NSW National Parks and Wildlife Service reportedly started the operation to battle the at-risk nature of the state's marsupial population. They have food dropped for rock-wallaby colonies in the Capertree and Wolgan valleys, Yengo National Park, the Kangaroo Valley and around Jenolan, Oxley Wild Rivers and Curracubundi national parks, noted the Daily Mail. The report further stated that so far, they have dropped more than 2,200 kg of fresh vegetables for the animals. Australia Bushfire Crisis Fuels Mass Protests Demanding Immediate Action on Climate Change. 
Watch Video of Authorities Air-Dropping Veggies for Animals:
Thousands of kilograms of carrots and sweet potato are being delivered to endangered Brush-tailed Rock-wallabies in fire affected areas as the NSW Government steps in to help. #9News pic.twitter.com/Vw3SnMUejL

— Nine News Sydney (@9NewsSyd) January 12, 2020
Carrots Being Air-Dropped!
Operation Rock Wallaby 🦘- #NPWS staff today dropped thousands of kgs of food (Mostly sweet potato and carrots) for our Brush-tailed Rock-wallaby colonies across NSW 🥕🥕 #bushfires pic.twitter.com/ZBN0MSLZei

— Matt Kean MP (@Matt_KeanMP) January 11, 2020
The New South Wales Minister for Energy and Environment has tweeted an image of a 'happy customer,' that shows a marsupial, feeding on a carrot. The pic will melt your heart. Here's How You Can Donate and Help Those Affected by Destructive Australian Wildfires. 
It's Satisfactory!
One happy customer 🦘🥕🥕🥕🥕#operationrockwallaby #AustralianFires pic.twitter.com/wtzMgeaX6D

— Matt Kean MP (@Matt_KeanMP) January 11, 2020
The wallabies survived the fire but are left stranded with very limited natural food as the fire took away the vegetation around their rocky habitat. The NSW Minister, Matt Kean, further reported that his team would keep a close eye to the population to check on their progress as part of their post-bushfire recovery process. The World Wildlife Fund said that an estimation of 1.25 billion animals has died from the bushfire across Australia.