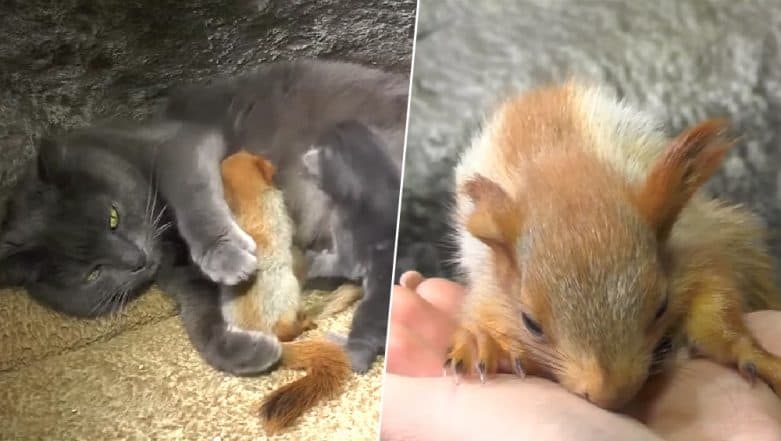 Pictures and videos of a cat caressing her newly adopted babies have gone viral on social media. Pusha, the cat who lives in a zoo on the southern Crimean Peninsula in Bakhchisaray, Russia has adopted four orphaned baby squirrels along with her own kittens. And now she is raising them all as her own. Initially, Pusha wasn't fond of the squirrels and would often push them away, however, gradually she accepted them. Pusha even lets the squirrels drink her milk as if they were her own kittens. This Video of a Pet Dog and Cat Loving Each Other is Going Viral, Watch Cute Clip
Now the squirrels spend long hours together playing with their new mom and the kittens in the park. Pictures of Pusha licking her adopted squirrels are being massively shared on social media. Of which one of the pictures shows Pusha appearing to kiss one of the tiny squirrels.
Check out the adorable pictures below:
Cat adopts four adorable squirrels in Russia https://t.co/OThDU1C14Q pic.twitter.com/YwlV8wcVjC

— The Tortoise Cat (@Tortoise_Cat) April 26, 2019
The baby squirrels were handed over to the zoo by local residents who found them without a mother. A zookeeper said that it took some time for the squirrels to get used to their new mother and family, but now they all live together happily. With so many babies, Pusha sometimes finds it difficult to produce enough milk. During which, the park staff helps by supplementing with goat's milk in tiny bottles. Cat Shares Some Fitness Goals While Doing Sit-Ups Underneath a Car! Watch the Cutest Workout Video.
Watch the video below:
While most animals prefer to stay within their clan, there have been innumerable stories of animals adopting and taking care of those belonging to different species. There have been stories of dogs adopting monkeys, possum, kittens and even ducklings.