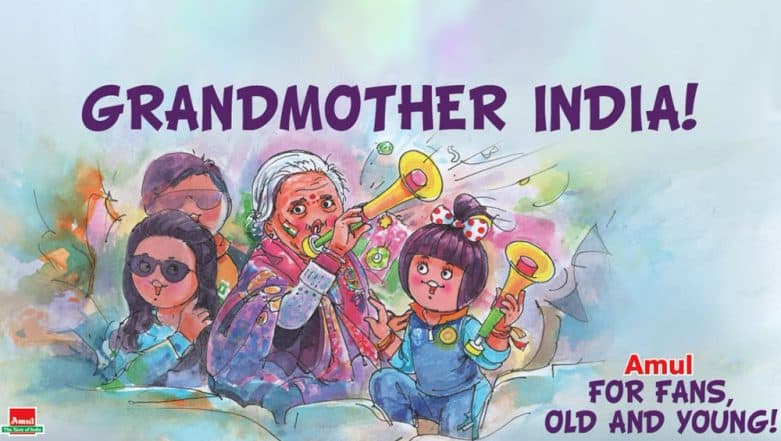 Charulata Patel, the Indian cricket fan, who was captured cheering for Team India during the ICC World Cup 2019 match against Bangladesh, is now a viral sensation. The 87-year-old, has made her ways to the hearts of Indian cricket team captain, Virat Kohli, vice-captain, Rohit Sharma, entrepreneur Anand Mahindra and all the cricket fans across the world. Now, the highly energetic woman has featured in an Amul topical ad and it could not get any better. The picture, going viral online, has impressed the cricket old and young fans. Meet Charulata Patel, the 87-Year-Old 'Young' Fan Cheering For India During IND vs BAN, CWC 2019. 
Charulata is a die-hard cricket fan, whose zeal and enthusiasm are enough for the cricket team to get motivated and win the World Cup. Indian captain Kohli ensured to sponsor her match tickets, so that she can cheer enough in the semi-finals and finals too, with equal passion. Holding a national flag, with tricolour smeared on her face, as she blew a vuvuzela, throughout the India vs Bangladesh match, is a sight to behold. And Amul creators, sculptured the expression rightly in their topical. Patel's caricature is grouped with children, cheering for India and the caption reads, "Grandmother India." Virat Kohli, Rohit Sharma Meet 87-Year-Old Team India Fan Charulata Patel After India Makes it to CWC 2019 Semi-Finals With Win Over Bangladesh. 
Tribute to the 'Grandmother India'
#Amul Topical: 87 year old Super Fan cheering Indian cricket team makes social media waves! #INDvsBAN pic.twitter.com/5BbI8y8YHV

— Amul.coop (@Amul_Coop) July 3, 2019
Earlier, while appreciating India's nail-biting victory over Bangladesh in the previous match in Birmingham, the business honcho, Mahindra urged the winning team to ensure the "match-winning lady," is present at the semi-finals and finals.
Anand Mahindra Urges Team India Ensure 'Match-Winning Lady' is Present in Semi-Finals and Finals
Ok, watched the last over & it had all the drama I needed. The best victories are those that make you bite your nails at 1st & then make it look easy in the end. Shabash, India & make sure this match-winning lady is present at the semifinals & finals...give her a free ticket! https://t.co/Smp0MrqCIA

— anand mahindra (@anandmahindra) July 2, 2019
Virat Kohli Promises to Take of Her Match Tickets
Also would like to thank all our fans for all the love & support & especially Charulata Patel ji. She's 87 and probably one of the most passionate & dedicated fans I've ever seen. Age is just a number, passion takes you leaps & bounds. With her blessings, on to the next one. 🙏🏼😇 pic.twitter.com/XHII8zw1F2

— Virat Kohli (@imVkohli) July 2, 2019
Charulata Was the Woman of the Match for Rohit Sharma
The heart-warming moment could be expressed any better. The 87-year-old was quoted in various news outlets sharing her sports spirit since her younger time. Earlier she used to watch a cricket match on her television and now that she is retired, Patel loves to enjoy it live. We cannot wait for the next match, which is scheduled on July 6, 2019, against Sri Lanka and see Charulata cheering, "India, India.."