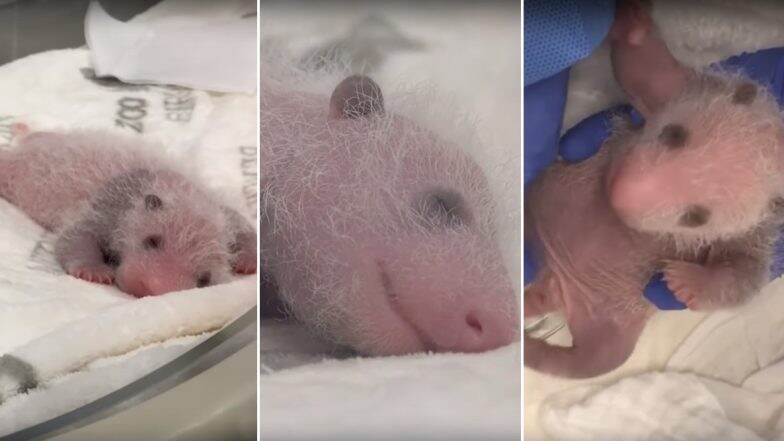 Berlin Zoo is currently at joy as they welcomed two panda babies a few weeks ago. The birth of the pink cubs was the first time one of the endangered animals in Germany had given birth. And they are in joy as the zookeepers watch the first German-born Panda babies growing up healthy and happy. The adorable video to the two-week-old cubs is making rounds on the internet giving us glimpses of their cuteness. They are already showing signs of how they will look once they grow up and we are totally mesmerised at their endearing sight! Gay Penguin Couple Adopt Abandoned Egg in Berlin Zoo After Caring for it Since July. 
Resting at their Mama's lap, carefully opening their tiny eyes, their baby activities are incredibly peaceful to the eyes. The mother, Meng Meng, gave birth to the second one, around one hour after the first was born. "Meng Meng became a mom – twice! We are so happy, we are speechless," the Berlin Zoo tweeted announcing the Big News. From the gradual black and white colouring of the twins, you can see they are growing up looking like Mama!
Watch the Viral Video:
The cubs are not named yet. Pandas are notoriously difficult to breed. This is the reason; such births are considered rare. The zookeepers informed that the pandas are in good health. Their nine-year-old father Jiao Qing has not been involved in cub rearing. Before the birth of these cubs, Meng Meng and Jiao Qing were the only giant pandas in Germany and had been living in Berlin Zoo since summer 2017.