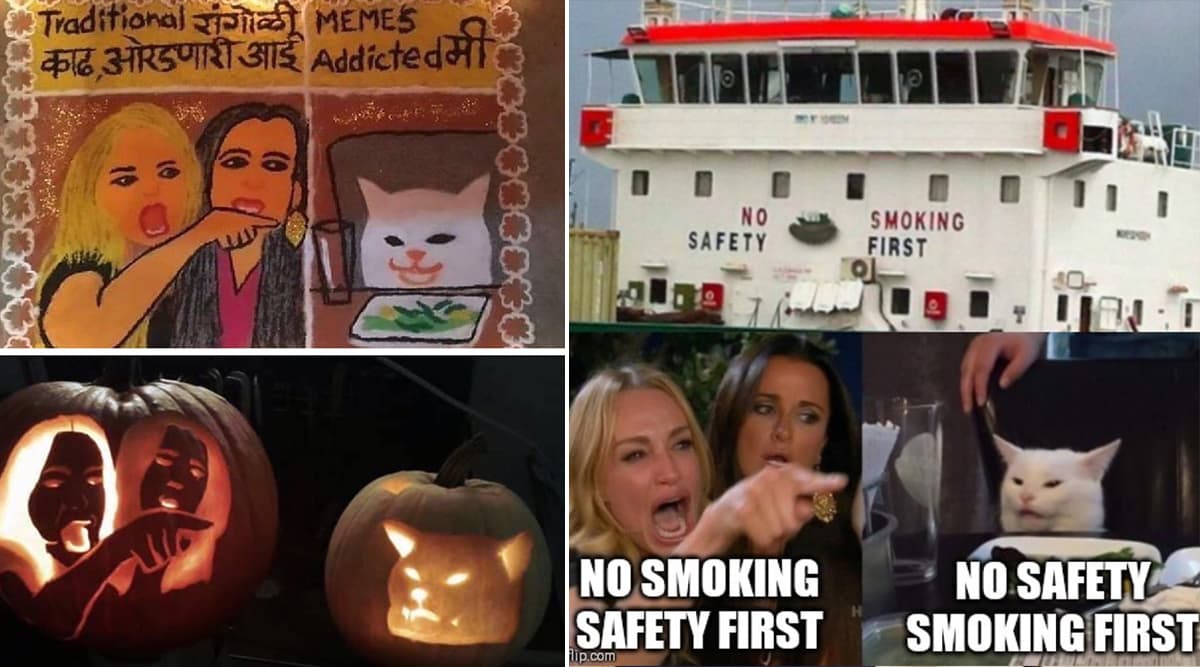 If you are seeing a woman pointing and screaming on one side of your computer/phone screen and a zero-f*cks-to-give cat on the other side of the screen raiding your social media, you are not alone! The screaming lady memes with a cat, popularly known as "smudge, the cat" has taken over the internet. And even though it is something originated from the west, our desi members have jumped into the bandwagon too.   So, for those who don't know, this meme is a collage of two memes on one side you have a picture of a woman yelling on top of her lungs with tears in her eyes whereas on the other side there is smudge, the cat who is totally confused about what's even going on.
This meme was used to make accent related memes, you know the British accent vs the American accent. But now there are so many different types of jokes made using the same picture that we can't even! The best thing happens when our desi folk chip in. Here are some of the best, "screaming lady, confused cat" memes that will make your day! Check out:
Maharashtrians Will Understand
View this post on Instagram
Ok
View this post on Instagram
LOLOLOL
View this post on Instagram
To All The Cliche Couples
View this post on Instagram
I Can't Breathe
View this post on Instagram
ROFL
View this post on Instagram
What?!
View this post on Instagram
Can't Stop Laughing
Divide by cultures.

United by #womanyellingatcat. #HappyDiwali#HappyHalloween pic.twitter.com/f53MOX7PV1

— Suhana_Safar (@suhani_mishra) November 3, 2019
Ded
I am a big fan of this meme! I saw the picture on the top and thought it would be perfect for it. So, I have officially created my first meme! #womanyellingatcat #womanyellingatcatmeme pic.twitter.com/huvLwAF4M8

— Matthew McLean (@DJ_MCLean) November 4, 2019
Not Me
#womanyellingatcat #womanvscat pic.twitter.com/G2VZtNWs7k

— Woman Vs Cat Meme™ (@womanvscatmeme) November 7, 2019
Just last month, another meme trend took over the internet. It was about the invention of things and how life was before them. We do not know what the exact format is called but it mentions a particular year when the thing was invented in and how people functioned before that. From Bollywood movies, TV serials to appliances these "was invented in..." or the before and after and the memes were hilarious AF.