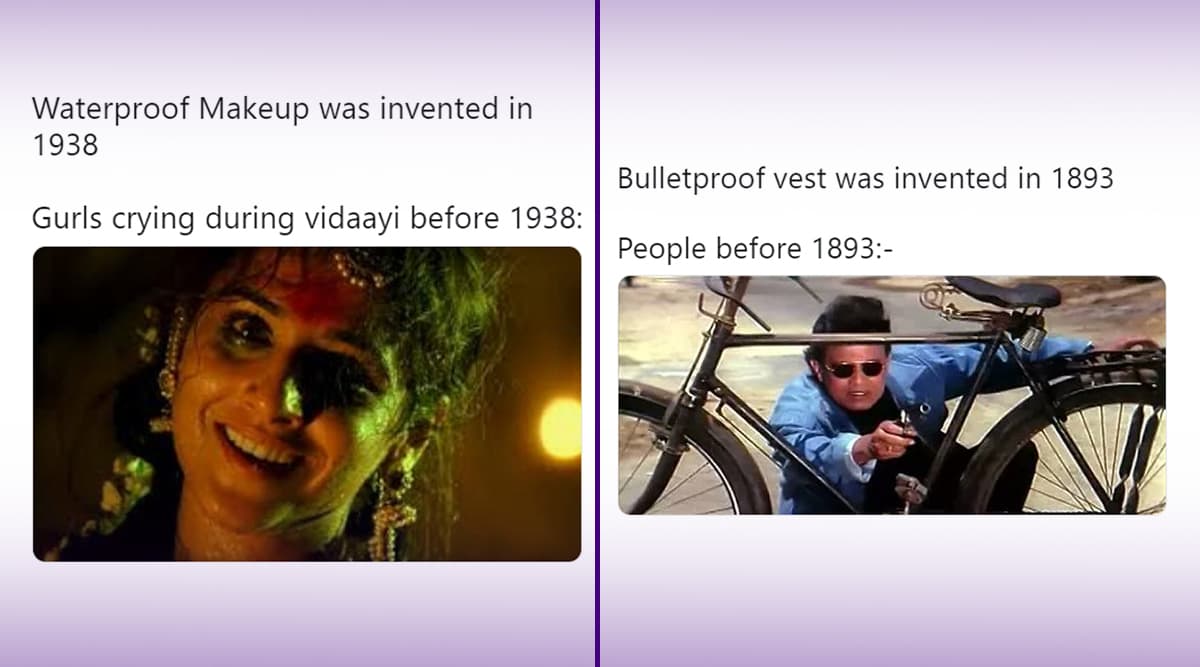 The internet is an entertaining place and one of the factors of primary entertainment here are funny memes and jokes. Every few days we have new meme formats that come up and eventually started trending as everyone gives their own twist and creates jokes out of them. The latest meme trend is around the invention of things and how life was before them. We do not know what the exact format is called but it mentions a particular year when the thing was invented in and how people functioned before that. From Bollywood movies, TV serials to appliances these "was invented in..." or the Before and After memes are just too funny to be missed out on. Neha Kakkar's Crying Photos From Indian Idol Episodes Make People Laugh! Funny Memes on Singer-Cum-Judge's Emotional Outburst Trend on Social Media.
It doesn't take long for a meme to start trending and go viral. People show their creativity online. As currently the festival of Diwali is being marked in India, funny memes and jokes on Diwali have also been trending for the past few days. We do not know who or what started this latest meme trend but the results are hilarious. From iconic scenes of Bollywood movies to some funny pictures on the internet, these before invention memes are too entertaining. Check some of the memes and jokes below.
Before Google Maps Was Invented
Google map was invented in 2005

People in 2004: pic.twitter.com/TLI2AU3Psz

— Sarcastic chori (@sarcasticchorii) October 27, 2019
Google map was invented in 2005

People before and even after 2005 pic.twitter.com/5ShdekiUec

— Satyajit SJ Beura (@satya_bachann) October 27, 2019
How Can We Forget This Iconic Scene
Laptop cleaning kit was invented in 2005

How laptop was cleaned before 2005: pic.twitter.com/Jkva0vwFWT

— sakshi (@dimplewaali) October 28, 2019
Awww!
Pillow was invented 7000 BC

People in 7001 BC :- pic.twitter.com/AMm8fx2kj2

— Tushar Mor (@BeingSarcastic5) October 28, 2019
Before The X-Rays
X-Rays was invented in 1895.

Indians before 1895. pic.twitter.com/mlCuakPppE

— Sudipto Biswas (@SudBiswas) October 28, 2019
Can't Even!
***Condom was invented in 1855***

People in 1854 - pic.twitter.com/m8gHpZfHiU

— Stylish Surbhi (@JCBwaliLadki) October 28, 2019
Level of Protection!
Bulletproof vest was invented in 1893

People before 1893:- pic.twitter.com/mde0jaWxM4

— Rupesh Sardar🇮🇳 (@RupeshSardar11) October 28, 2019
This Keeps Getting Funnier
Stethoscope was invented in 1816.

Doctors before 1816 : pic.twitter.com/0yNw4wqThd

— haavli (@haavlihudga) October 28, 2019
Makeup Stories
Waterproof Makeup was invented in 1938

Gurls crying during vidaayi before 1938: pic.twitter.com/gOEv0ezAsU

— Oye.mahi.memes (@Oyemahi_memes) October 28, 2019
A Not-So-Reliable Calculator
Calculator was invented in 1960

People in 1959: pic.twitter.com/6LPbAm6n0R

— Ghumgheen (@zaighumbukhari2) October 28, 2019
Before Umbrellas
Umbrella was invented in 1830.

People in 1829: pic.twitter.com/Avbp8l4RHo

— Shreya Sharma (@xxxshreyaxxx) October 28, 2019
Aren't these the funniest. As the trend is catching up, we expect more of such memes to come up on social feeds. If you are a lover of such jokes then we are sure you'd also enjoy making them.