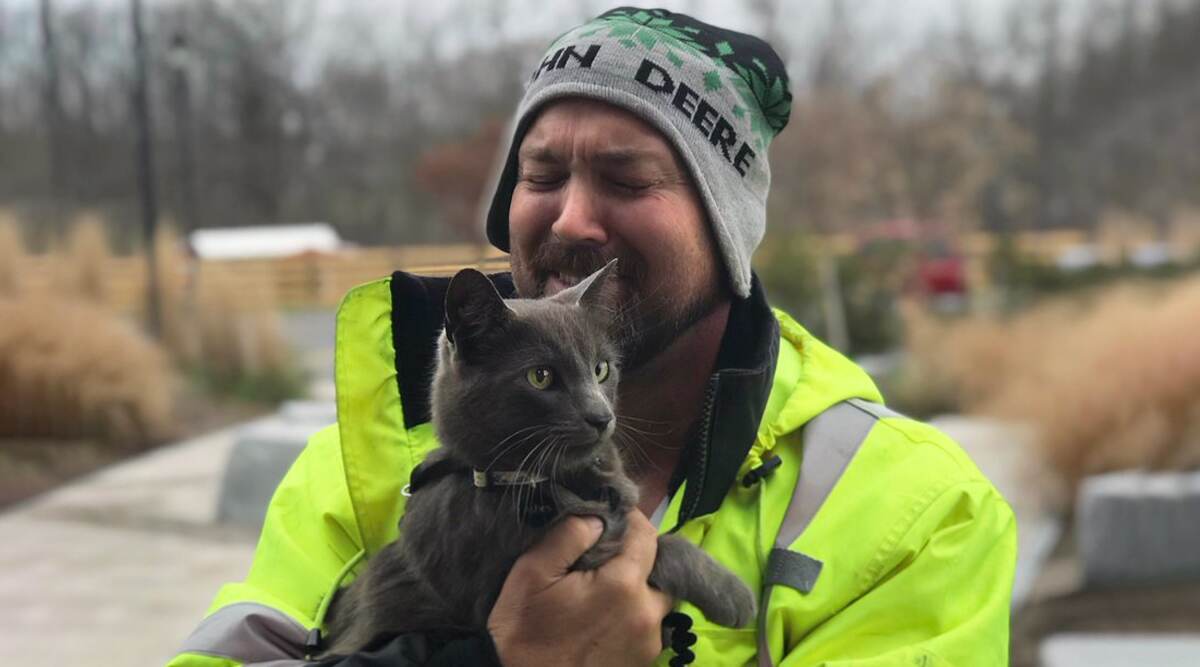 It was a Christmas surprise for a trucker who was reunited with his feline buddy after five months he lost the cat at a truck stop in Ohio. All thanks to the tiny microchip. Their unison melted hearts of people online and even increased awareness about the importance of microchip among pet owners. The moment the trucker, Mathew B, met his pet, he could not hold back his tears and hugged Ashes, the 3-year-old gray cat. The feline went missing back in July at a truck stop, and rightly after five months, the pair was united, to continue enjoying the comfortable rides with his owner. Pet Cat Who Went Missing for 9 Years in England Reunited With Owner at the Age of 20. 
Lollypop Farm, the Humane Society of Greater Rochester shared the adorable story on Twitter that also served as a reminder about the importance of microchips to locate lost animals. The humane society explained the entire tale in their blog post. It was a woman who spotted the gray cat at a truck stop in Ohio. The feline appeared to be cold and hungry. The woman identified as Kimberly with her friend searched the area for anyone who might know if somebody lost their pet. Unable to find the owner, she invited the cat in her car to warm up in a blanket. Dog Owner Breaks Down After Being Reunited With Long-Lost Pet. 
Kimberly took Ashes to the Humane Society in Rochester, New York. She took the cat over there because she knew that Ashes would get the help he needed. Workers discovered a microchip and found its possible owner. They believed that the cat travelled across the country. "Not only did he have one, but he had an owner who had registered him under a Texas address that was over 1,465 miles away," the shelter wrote in a blog post. "This was one cross-country kitty," the report adds further.
View Pic:
Matthew couldn't believe it when he got a call that his cat Ashes, who had gone missing at a truck stop in Ohio in August, was safe and sound at #LollypopFarm. Thanks to a microchip, these two got back on the road yesterday - together. 🚚

Their story: https://t.co/5gMffsrbK3 pic.twitter.com/FLMNBFmCw3

— LollypopFarm (@LollypopFarm) November 26, 2019
All this while, Mathew was looking for the cat desperately. He even re-routed other trips in his 18-wheeler truck through the area where the cat went missing, but came up short. When the organisation contacted him for his lost pet, the relieved owner managed his work schedule and drove up the East Coast to reunite with the cat in Rochester. Kimberly and her friend could also witness the incredible moment when the pair were reunited. The owner and the shelter home credited microchip! So, pet owners out there, implant a chip, if you have not already.